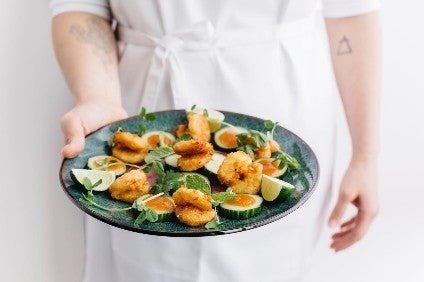 US meat giant Tyson Foods is extending its presence in the alternative-protein market by investing in New Wave Foods, a producer of plant-based shrimp.
The deal was conducted by Tyson's venture capital fund Tyson Ventures, which seeks out "disruptive" food categories. Financial details were not disclosed in a statement today (5 September).
San Francisco-based New Wave Foods was founded in 2015 and is run by chief executive Mary McGovern. The concept was developed by co-founder Michelle Wolf, who is also chief technology officer.
New Wave Foods' debut 'shrimp' product aimed at the foodservice sector has less calories and salt than real shrimp, Tyson said. The product is made with seaweed and plant protein. It has no allergens and zero cholesterol, and like meat and regular seafood contains all eight 'essential" amino acids.
McGovern said: "We worked with the Culinary Institute of America to set the gold standard for this product and then created a plant-based shrimp that has had rave reviews from the thousands of people who have tasted it. Our product is a delicious, one-for-one direct swap for the real thing, and interchangeable in a wide range of recipes. It gives chefs and foodservice operators great menu options while addressing consumers' growing demand for sustainable choices."
It is the latest development in Tyson's plant-based aspirations as the category gains mainstream traction with many of the company's meat-producing counterparts joining the assault on sustainable protein options. In June, the Arkansas-based business launched a 'blended ' range of real meat products combined with plant-based ingredients – Raised & Rooted.
Amy Tu, president of Tyson Ventures, said: "We're excited about this investment in the fast-growing segment of the plant-based protein market. This continues our focus of identifying and investing in companies with disruptive products and breakthrough technologies related to our core business so we can continue to serve a growing global population."
New Wave Foods' McGovern added: "Our plant-based shrimp cooks and tastes just like the real thing, and it matches the texture, taste, performance and versatility of shrimp fresh from the ocean. The proof is in the overwhelming, positive response we have had to the product."
In 2016, Tyson acquired a 5% stake in US meat-alternatives supplier Beyond Meat. In April, the company announced it had sold its shares ahead of Beyond Meat's IPO.
US news website Axios claimed there had been tensions between Tyson and Beyond Meat after the poultry, beef and pork giant said in February it wanted to develop its own plant-based products.
Axios claimed Beyond Meat no longer wanted Tyson to attend board meetings despite doing so being part of an agreement between the two companies.
Approached by just-food in April to respond to the claims of tensions, Tyson provided a statement.
"Tyson Ventures is pleased with the investment in Beyond Meat and has decided the time is right to exit its investment. Beyond Meat provided an early opportunity for Tyson Ventures to invest in plant-based protein products that many consumers are seeking. We wish the leadership of Beyond Meat all the best," the statement read.
"Tyson Foods continues to be committed to providing alternative protein as a choice for consumers and recently announced the creation of a new business focused on combining our creativity, scale and resources to make great tasting protein alternatives more accessible for everyone. We plan to launch an alternative protein product soon with market testing anticipated this summer."
In June, Tyson launched its Raised & Rooted brand, with a range of products including plant-based nuggets and blended burgers made with a combination of both beef and plants.