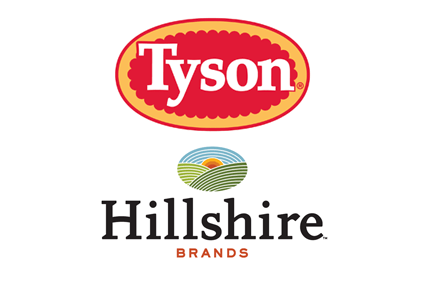 Tyson Foods said it made a "great" start to the year, as sales and earnings rose in the wake of its acquisition of Hillshire Brands.
"Tyson's fiscal year is off to a great start with our first full quarter as a combined company producing record sales and adjusted operating income," said president and CEO Donnie Smith.
The company said sales were up 23.5%, climbing to US$10.82bn. Gains were driven by a one-fifth increase in beef sales. Tyson's prepared foods arm, a division augmented by Hillshire, saw revenue rise by almost one-quarter.
Operating profit growth mirrored the group's top line expansion, rising 23.5% to $509m. On an adjusted basis, stripping out one-time costs associated with Hillshire, operating income was up 37% to $564m. Net income increased 21.7% to $309m as higher finance expenses were partially offset by lower tax costs.
During the period, Tyson suggested it made strides in integrating the Hillshire business. "We achieved $60m in synergies in the first quarter, and we are confident we will exceed the $225m synergy target for this fiscal year," Smith predicted. The group was also able to use its "strong" cash flow generation to pay down debt by $650m in the period.
Shares in the meat group rose almost 2% in pre-market trading in New York today.