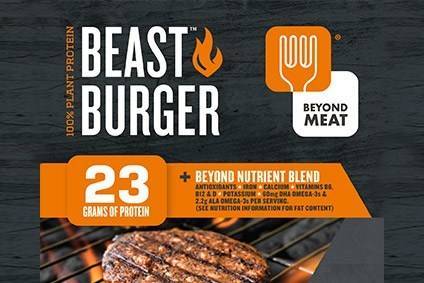 US meat giant Tyson Foods has taken a 5% stake in plant-based protein producer Beyond Meat.
The investment was provided via a fundraising initiative launched by the US maker of meat alternatives. It will provide additional capital to help Beyond Meat expand its product portfolio and distribution reach, the companies said.
Beyond Meat meat-free products are available in 11,000 stores throughout the US. The company will continue to operate as an independent business under founder and CEO Ethan Brown. He said Tyson's interest in the company "underscores the growing market for plant protein".
Monica McGurk, Tyson's executive vice president of strategy and new ventures and the president of the company's foodservice division, said the company is "enthusiastic about this investment", which she said would provide the group with "exposure to a fast-growing segment of the protein market".
McGurk added: "It meets our desire to offer consumers choices and to consider how we can serve an ever-growing and diverse global population, while remaining focused on our core prepared foods and animal protein businesses."
Tyson has come under growing pressure from elements of its shareholder base to look at alternative sources of protein in order to address environmental concerns. In September, US-based Interfaith Center on Corporate Responsibility, which comprises 300 organisations that see their investments as "a catalyst for social change", called on Tyson to "address risks" the company faces from the growing demand for plant-based foods.
The organisations put forward five shareholder resolutions for Tyson's 2017 proxy ballot. One of the organisations, Green Century Capital Management, a group of "environmentally-responsible" mutual funds, issued a resolution seeks to find out what steps Tyson will take "to address risks to the business from the increased prevalence of plant-based eating".
Tyson did not officially respond to the criticism, telling just-food at the time it intended to state its position "when we issue our proxy statement later this year".
Brown founded Beyond Meat in 2009. Last autumn, the company appointed a number of new executives, moves that Brown said would help grow the business.
Beyond Meat named former Fiji Water COO Jerry Joye as its chief operating officer and Mark Nelson, the finance chief at hot beverages business Farmer Brothers Co., as chief financial officer.
Honest Tea founder and CEO Seth Goldman joined Beyond Meat as chairman, while former McDonald's CEO Don Thompson has joined the plant-based protein company's board.