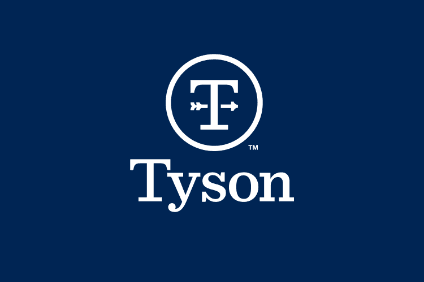 Tyson Foods made a series of announcements after the close of the New York Stock Exchange yesterday (28 September), lifting its forecast for full-year underlying earnings, setting out plans to cut jobs and issuing cost-savings targets.
The US-based meat giant increased its forecast for its full-year adjusted earnings to an US$5.20-5.30 per share, up from $4.95-5.05.
Tyson said the new forecast, for a financial year that ends tomorrow, was "primarily due to much better than expected earnings" in its beef business.
In a lengthy statement, the Ball Park hot dogs maker also set out the "cumulative net savings" it expects to generate over the next three financial years from the integration of recent acquisition AdvancePierre Foods and other cost cuts. In Tyson's next financial year, it expects to see savings $200m, then for that to rise to $400m in fiscal 2019 and then to $600m in fiscal 2020.
Tyson said the savings would "primarily impact" its prepared foods and chicken divisions, focusing on supply chain, procurement and overheads
The company plans to cut around 450 positions across several areas and job levels. Most of the eliminated positions will come from Tyson's corporate offices in Springdale, Chicago and Cincinnati, the company said.
Tom Hayes, Tyson's president and CEO, said: "We know we can be even more efficient operators," he said. "We are a good partner for growth for our customers and are constantly challenging ourselves to identify opportunities to create value for our consumers, customers and shareowners.
"These are hard decisions, but I believe our customers and consumers will benefit from our more agile, responsive organisation."
When Tyson announces its annual results on 13 November, it plans to report restructuring and other charges of around $140-150m, due to costs related to software implementations, employee termination and contract termination.
Shares in Tyson rose 6% in after-hours trading in New York to $69.38.