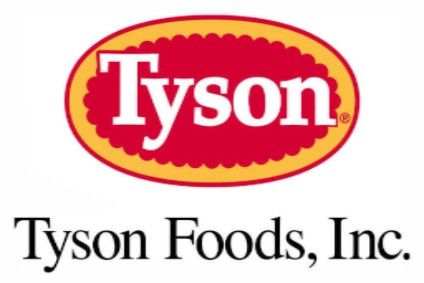 Tyson Foods, the US meat products group, today (23 November) claimed "record sales and earnings" in its last financial year, although its fourth-quarter earnings fell below analyst expectations.
The company booked a 7% increase in adjusted earnings per share to $3.15 for the 12 months to 3 October. Adjusted operating income stood at $2.25bn, an up 37% year-on-year.
The adjusted figures stripped out items including M&A costs, expenses from the restructuring of Tyson's prepared foods business, and an impairment charge on its Chinese business.
Tyson's reported net income stood at $1.22bn, versus $864m a year earlier.
The improved profitability came in part on higher sales. Tyson said adjusted sales for the year reached $40.6bn, a rise of 9% on a year earlier. The adjusted sales excluding the impact of an additional week in the fourth quarter of the year and post-closing Hillshire sales booked in the previous year's fourth quarter.
"Fiscal 2015 was an important year for Tyson Foods, because it proved that our house of brands gives us the ability to produce record sales and earnings in less than optimum conditions, all while successfully merging two large companies," president and CEO Donnie Smith said, referring to the group's takeover of Hillshire Brands.
"We're expecting another record year in fiscal 2016. Our projections indicate adjusted EPS of $3.50 to $3.65, consistent with our goal of averaging at least 10% annual EPS growth over time. We plan to continue repurchasing our shares; in fact, we've already bought back $200m of our stock so far in the first quarter of fiscal 2016."
In the fourth quarter, Tyson generated adjusted earnings per share of $0.83, down form $0.87 a year ago. Analysts were expecting earnings of $0.88.
Tyson's beef unit reported an operating loss of $33m, compared to operating income of $153m a year earlier. Operating income from its pork division from from $99m to $95m. Both saw quarterly sales fall year-on-year.
The company saw sales and operating income from its poultry business rise in the fourth quarter despite lower prices.