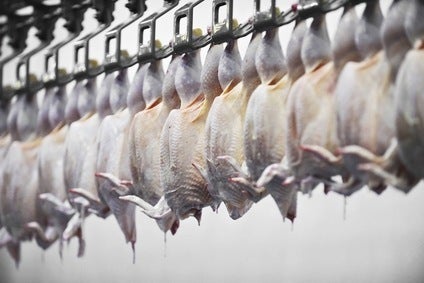 Tyson Foods aims to eliminate the use of human antibiotics in its US broiler chicken flock by the end of September 2017.
Tyson said it has already stopped using antibiotics in its 35 broiler hatcheries and has reduced human antibiotic usage to treat broiler chickens by more than 80% since 2011.
The move reflects growing consumer concern over human antibiotics entering the food chain. "Antibiotic resistant infections are a global health concern," said Donnie Smith, president and CEO of Tyson. "We're confident our meat and poultry products are safe, but want to do our part to responsibly reduce human antibiotics on the farm so these medicines can continue working when they're needed to treat illness."
Smith added that given the progress to date on reducing antibiotic use in its broiler flocks the US meat group believes it is "realistic" to target zero-usage by the end of fiscal 2017. "But we won't jeopardise animal well-being just to get there. We'll use the best available treatments to keep our chickens healthy, under veterinary supervision," Smith said.
The company will record its progress annually in its sustainability report.
Tyson is also forming working groups with independent farmers and others in the company's beef, pork and turkey supply chains to discuss ways to reduce the use of human antibiotics on cattle, hog and turkey farms. Those groups will begin meeting this summer.
The move "will not materially affect the company's financial performance", Tyson concluded.
Last week, Tyson peer Pilgrim's Pride said it will remove all antibiotics from 25% of its chicken production by 2019. The company, majority owned by Brazil-based meat giant JBS, said currently around 5% of its output is antibiotic-free.
Some of the poultry industry's largest customers are pushing for a shift in how antibiotics are used in poultry production. Last month, McDonald's said it would only source chicken raised without the use of human antibiotics within the next two years.