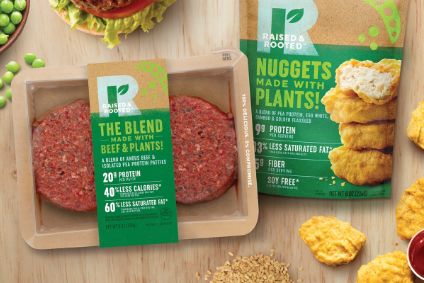 Tyson Foods is making changes to the Raised & Rooted plant-based range it sells in the US – including pulling the hybrid burger on offer since the brand's launch last year.
The US meat giant started marketing the Raised & Rooted brand domestically last summer as part of the company's moves to tap into growing interest in plant-based options. Tyson developed and launched plant-based nuggets and a burger called The Blend, the recipe for which contained meat.
Tyson's changes to the products on offer in the US include the removal of an ingredient from its plant-based nuggets and sliders and a decision to no longer sell The Blend.
"We are continually updating our products, and recently reformulated our plant-based nuggets and tenders with a recipe that improves the taste and texture of our products. This new recipe also removes egg white. We are producing the reformulated products and shipping to our customers this month," a Tyson spokesperson said. "The Raised & Rooted Blend will be discontinued as we constantly evaluate products working alongside our customers and consumers."
Last month, Tyson took the Raised & Rooted brand to Europe, marketing a series of products to foodservice customers.
"Regarding our European Raised & Rooted products, all of the products do not contain animal products except one, the Garlic & Herb Dipping Fries," the spokesperson added.