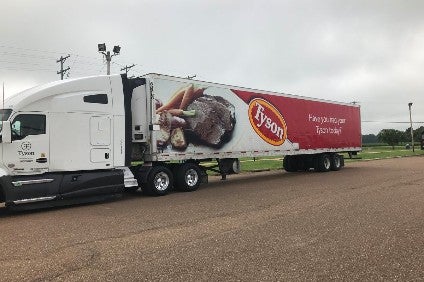 US meat titan Tyson Foods is to temporarily close its Storm Lake pork processing plant in Iowa following a mass outbreak of Covid-19 amongst its employees there.
News agency Reuters reported an Iowa state official as saying 555 employees at the plant tested positive for the virus, about 22% of the workforce.
The decision to shutter the plant comes a month after US President Donald Trump ordered meatpacking plants to stay open to protect the country's food supply.
In a statement sent to just-food, Tyson said: "The health and safety of our team members, their families and communities is our top priority, and we continue to take all precautions to protect them.
"As a result, Tyson has made the voluntary decision to temporarily halt operations at our Storm Lake, Iowa pork processing facility. This is due in part to a delay in Covid-19 testing results and team member absences related to quarantine and other factors. We will idle harvesting animals and finish processing over the next two days. Additional deep cleaning and sanitising of the entire facility will be conducted before resuming operations later next week.
"The company is working closely with local health officials and has completed Covid-19 testing of team members and contractors at the plant. Tyson will share verified test results, once complete data is available, with health and government officials, team members and other stakeholders as part of our efforts to help communities where we operate better understand the coronavirus and the protective measures that can be taken to help prevent its spread."
The company said that when operations resume, workers at the Storm Lake facility will continue to have access to additional testing, daily clinical symptom screenings, nurse practitioners and enhanced education through Matrix Medical which has a mobile unit onsite.
Tyson has been plagued by Covid-19 infections at a large number of plants, some of which have been forced to temporarily shutdown or pause production as the appropriate cleaning and sanitisation processes are carried out. The affected sites have included factories in: Portland, Maine; Waterloo, Iowa; Goodlettsville and Shelbyville, Tennessee; Pasco, Washington; Dakota City, Nebraska; and Longansport, Indiana.
The company has said it has rolled out "advanced testing capabilities" across its 30 or so US production facilities and is "prioritising communities with a higher prevalence of Covid-19 and will assess additional needs based on significant risk factors and access to testing".
The wider US meat industry has been hit hard by the novel coronavirus. The United Food and Commercial Workers International Union (UFCW) has reported 44 meat plant employees have died in the US from Covid-19 and is calling on the Trump administration and meat companies to do more to protect workers. UFCW's latest figures reveal more than 3,000 infections among US meatpacking workers.