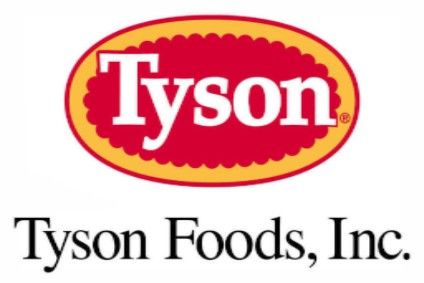 Tyson Foods has upped its forecast for annual earnings but cut its estimate for annual sales after its first-quarter results.
The US meat giant today (5 February) reported increased profits for the first three months of its financial year, despite a dip in sales stemming from lower selling prices for pork and beef.
For the period ending 2 January 2016, operating income at the US food group grew to US$776m from $509m a year earlier, boosted by lower feed costs. Net profit was higher at $461m from $309m.
Sales, however, fell to $9.2bn from $10.8bn.
Tyson raised its earnings outlook to $3.85-3.95 per share from $3.50-3.65 per share.
It dropped its sales forecast for the year to $37bn from $41bn after the higher domestic availability of cattle and hogs drove down average selling prices in the quarter.
Q1 segment results.
Chicken: Sales down to $2.6bn v $2.7bn. Volume down as a result of "optimising mix" and average sales price hit by lower feed ingredient costs though this lifted operating income for the segment.
Beef: Sales down to $3.6bn v $4.4bn. Sales volume decreased due to the closure of Denison facility. Average sales price decreased due to higher domestic availability of fed cattle supplies, which drove down livestock costs. Operating income increased due to "more favourable market conditions" associated with an increase in supply.
Pork: Sales down to $1.2bn v $1.5bn. Sales volume decreased due to the sale of Heinold Hog Markets business in the first quarter of fiscal 2014/2015. Live hog supplies increased, which drove down livestock cost and average sales price. Operating income benefited from better plant utilisation associated with higher volumes.
Prepared Foods: Sales down $1.9bn v $2.1bn. Sales volume decreased due to a change in sales mix in addition to the avian influenza impact. Average sales price decreased primarily due to a decline in input costs, partially offset by a change in product mix. Operating income improved due to mix changes as well as lower input costs.