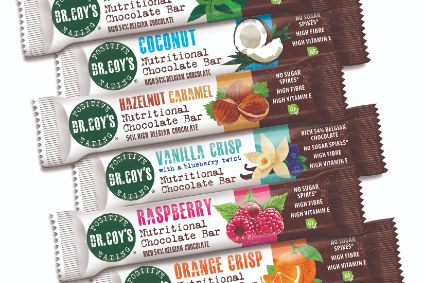 Ireland-based better-for-you chocolate maker Dr Coy's Health Foods is looking to raise between EUR400,000 (US$445,068) and EUR600,000 from a new investment round to fund its international expansion ambitions.
The company, based in Co. Wicklow near Dublin, recently raised EUR400,000 in its first funding round with backing from Irish government economic development agency Enterprise Ireland as well as private investors including The Edge, guitarist with Irish rock band U2, and businesswoman Ali Hewson, who is married to U2 frontman Bono.
Dr Coy's Health Foods wants to raise additional funds to finance plans to expand into the UK, continental European markets including Portugal and Germany and China.
Co-founder Alison Stroh told just-food the second round of fundraising – from new rather than existing investors – is expected to close soon.
The business was established in 2014 when Stroh approached Dr. Johannes Coy, an award-winning German oncologist, to propose offering chocolate with certified health benefits to the market. Looking at the relationship between cancer cells and sugar metabolism, Coy had already developed a new recipe for chocolate which he was offering to cancer patients as a treat.
Dr Coy is now a shareholder in the business.
"I tried to make it more of a lifestyle product rather than a scientific one when it was launched in 2015," Stroh said.
The chocolate bars – containing the sugar galactose – is available in Ireland through retailers such as Tesco, Dunnes and SuperValu. It is also available in the UK via online grocer Ocado and will soon be sold through Amazon.
"We want to expand our reach in the UK. There is a lot of competition but the sector is exploding," Stroh said.
"What we are saying is that this is real chocolate with real sugar in it but it is sugar that doesn't raise blood sugar levels and which also also tastes good."
Stroh said the company plans to use new funding to increase the size of its team – currently four people – and for marketing and business development purposes.
"In the UK ideally we would like to have someone on the ground but elsewhere we'll seek distribution partners," she said.