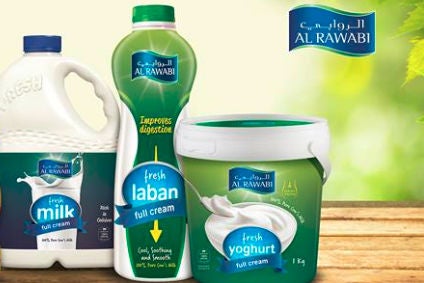 UAE-based dairy firm Al Rawabi Dairy Co. is looking at growing its presence in the Middle East and Africa this year.
Speaking at a press conference, CEO Dr. Ahmed El Tigani said Al Rawabi planned to enter new export markets in the region.
He said "in the next three to four years" the firm would look to be present in all Gulf Cooperation Council countries and focus on "increasing the brand's visibility" in more African countries.
Al Rawabi operates out of a production site near Dubai International Airport. It directly distributes to Oman and Qatar and entered the Kuwait market last year. It also exports to Iraq, Libya, Sudan and Yemen.
Dr. El Tigani indicated Al Rawabi was looking at entering Bahrain and Saudi Arabia. "We are also conducting a feasibility study to explore setting up an operations base in Saudi Arabia. On our home turf in the UAE, we are currently in planning and feasibility study phase for a new dairy farm in Abu Dhabi," Dr. El Tigani said. "The aim is to double the turnover from 2015 levels by 2020 and reach a customer base of over 15,000 stores by the end of 2016 from the current 12,500."
Al Rawabi just invested AED80m to centralise milk storage and build a production facility near its existing plant in Dubai to help boost production capacity. Al Rawabi produces 175,000 litres of fresh juice products and 325,000 litres of dairy products daily.
"The output of current production facility is only 30% of its capacity. By modernising it this will improve the output to 70%," a spokesperson for the company told just-food.
Abdulla Al Qubaisi, vice chairman of Al Rawabi, said 2016 will be "one of the most innovative years" for the company.
"This year we are looking at enhancing our portfolio with an unparalleled range of new value-added products. These products will also seek to address key lifestyle-related concerns of our society like obesity, hypertension, diabetes and vitamin-D deficiency".
In addition, Al Rawabi is looking at entering more categories. It plans to introduce a range of cheeses and to expand into new category of products, including ice creams. The spokesperson said Al Rawabi's foray into cheese had already started and is "expected to be complete" by 2017 before the company starts "looking into the possibilities of ice cream".
Check out just-food's interview with Dr. El Tigani at last year's Gulfood show in Dubai, where he detailed the reasons behind the company's launch of a "functional" dairy range.