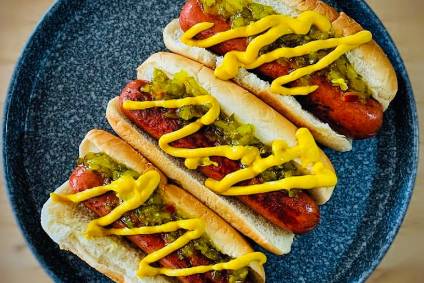 US fast-food operator Nathan's Famous has struck a deal with UAE's Mezzan Holding on the manufacture and marketing of hot-dog products.
Under the terms of the agreement, Mezzan subsidiary Khazan Meat Factory will manufacture a five-piece pack and eight-piece pack of hot dogs for retail and foodservice customers in the region. Nathan's Famous hopes to leverage Mezzan's distribution abilities, supermarket clients and foodservice customer base to support its growth.
Nathan's Famous Restaurants senior vice-president James Walker said: "We believe our partnership with Mezzan provides a wealth of advantages for the Nathan's Famous brand in and around the Gulf region, from growth opportunity to the ability to provide quality halal product to our fans in the region. Through its storied history, Mezzan has worked with some of the world's best-known consumer manufacturers to bring their products to the GCC, and we are thrilled to add Nathan's to the distinguished list of brands and expand our reach throughout the UAE and beyond."
Mezzan Holding, a manufacturer and distributor of FMCG products in the Gulf, operates in seven countries through 30 subsidiaries.
Lindsay Wakefield, Mezzan Holding commercial director, added: "With Nathan's strong heritage in the US and Mezzan's manufacturing, marketing and distribution footprint in the region, this partnership will allow Middle East consumers to enjoy the flavour of New York locally."