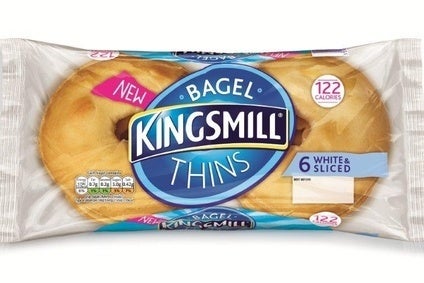 Associated British Foods has launched what it has claimed is a UK "category first" with a range of "thin" bagels.
Kingsmill Bagel Thins are "significantly thinner" than regular bagels and the company said it had developed the products to meet demand for healthier variants.
"Across the food and drink industry we are seeing a rising demand from consumers for smaller, lighter, healthier versions of their favourite foods," Janene Warsap, head of innovation at Allied Bakeries, ABF's UK bakery arm, said.
Warsap said the bagels had a "less doughy texture", which makes them "lighter" to eat.
Citing Nielsen data, the company said UK volumes sales of "sandwich alternatives" were up 6.7% in the year to 29 March.
Martin Garlick, category director at Allied Bakeries, said the company believed thinner bagels could grow at a similare rate in the UK to the US.
"Interestingly, the US bagel thins market is already well established and currently worth nearly 10% of the total US bagel market in volume terms. We believe there is a similar opportunity in the UK," he said.