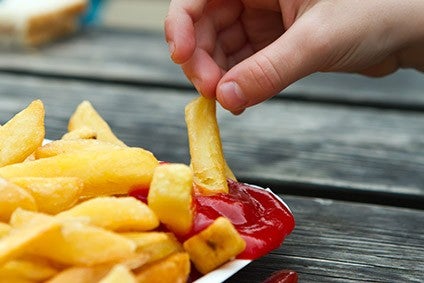 Announced yesterday (11 May) among a raft of bills included in the Queen's Speech outlining the Government's legislative priorities, the new law will also ban TV advertising of unhealthy foods – products high in sugar, salt and fat – before a 9pm watershed when children could be viewing.
Advertising of discount deals for unhealthy foods will also be banned, while people will be rewarded with shopping vouchers for losing weight and exercising under an incentive scheme to encourage healthier living. The legislation will also restrict retailer promotions on food and drink products that are high in fat, salt and sugar from April 2022.
And restaurants will be required to put calorie counts on menus.
The law, an attempt to tackle UK childhood obesity, has been backed by health campaigners but criticised by a body representing the country's food and drinks industry.
The Government has had a ban in sight for some time and has renewed its focus against the backdrop of the Covid-19 pandemic.
Reports in March suggested the Government was rowing back from its earlier proposals for a junk-food advertising ban to tackle what it described as an "obesity time bomb". Food industry and advertising bodies had suggested such a move would be ineffective and would punish manufacturers that have already re-formulated products to make them healthier.
Responding to the government's announcement, Kate Halliwell, chief scientific officer at UK industry body The Food and Drink Federation, said: "The advertising bans on TV and online outlined in today's Queen's Speech, confirms this government is interested in headline-chasing policy rather than making serious interventions that will help reduce obesity rates.
"A proposed advertising ban would remove less than five calories a day from children's diets, according to the Government's own estimates. And yet the proposals limit the scope for advertising products that have been carefully reformulated or created in smaller portions in-line with the Government's own targets. For example, Cadbury's would not be able to advertise their 30% reduced sugar Dairy Milk.
"This is tying businesses' hands, by limiting how healthier options can be successfully brought to market. It undercuts what has been a key pillar of the government's obesity strategy, and demonstrates a lack of joined-up policy making."
However, food campaign groups Action on Sugar and Action on Salt have welcomed the decision.
Their chair, Professor Graham MacGregor, said: "We warmly welcome the news that the Government will finally be making Britain healthier.
"Whilst bringing in these landmark obesity policies will make the UK world-leading, it's absolutely crucial that we not only prevent obesity, but also treat those who are overweight. This must include product reformulation."