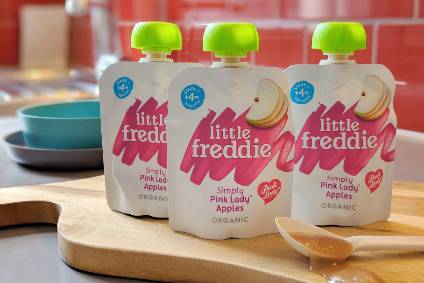 UK-based baby-food supplier Little Freddie has secured investment from two private-equity firms that are looking to work together to back consumer brands.
The move by Asia-based investment firm Hillhouse Capital and private-equity house VMG Partners to put money into Little Freddie is the first deal to come under the investors' "strategic partnership" to back what they called "innovative consumer brands with differentiated offerings looking to expand their global reach".
Hillhouse Capital and VMG Partners have allocated up to US$100m toward investments in what they further described as "high-potential brands" in the sector.
"Our previous collaborations with VMG on Ancient Nutrition, Solid Gold and Stone Brewing show the tremendous potential of brands that understand the value of offering consumers a truly differentiated experience," Hillhouse Capital founder Lei Zhang said.
The terms of their investment in Little Freddie were undisclosed. Little Freddie was set up in 2014 by husband-and-wife duo Piers Buck and Taslim Ho and markets pouches, cereals, and snacks for children.
In the UK, the firm's products are on sale through online grocer Ocado, Amazon and pharmacy retailer Boots. The company also has listings in China, where its products are sold at Sam's Club stores and on JD.com and on Alibaba's Tmall.
The private-equity firms said the investment will be used, in part, to "help drive further expansion in both China and the UK".
"Little Freddie is a high-quality, trusted brand that has tremendous potential in Asia and other parts of the world, as parents have become increasingly savvy about what they feed their children," Hillhouse Capital partner Cao Wei said. "We strongly believe that brands able to identify and meet unique and unmet consumer needs will excel in the new and rapidly changing retail landscape."
Kara Cissell-Roell, founding partner and managing director at VMG Partners, said Little Freddie "delivers exceptional, organic ingredients, an authentic brand story and an extraordinary growth potential in Asia and beyond".
just-food has contacted Little Freddie for comment.