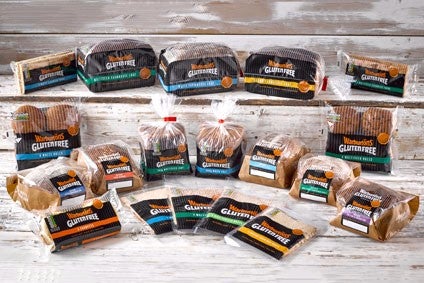 Warburtons has dumped its free-from brand Newburn Bakehouse in a revamp of the UK-based bakery group's range that will see its gluten-free lines once again sold under its namesake label.
The privately-owned business said it would rebrand the Newburn Bakehouse products as Warburtons Gluten Free from January.
Warburtons introduced the Newburn Bakehouse brand in 2013, grouping its existing gluten-free and wheat-free lined under the new brand, products that had been launched two years earlier.
However, the company indicated the range would benefit from again using its eponymous brand.
Chris Hook, free-from director at Warburtons, said: "Extensive customer testing shows that the clarity and simplicity of the Warburtons Gluten Free brand is preferred amongst both those with specific dietary needs and those choosing to eat gluten free for lifestyle reasons."
Jonathan Warburton, the chairman of the family-owned group, added: "Mainstream brands have been the key drivers of incremental growth in free from in recent years. The free-from aisle can be difficult to navigate, so we're rebranding to Warburtons Gluten Free to ensure customers can easily identify our products."
From the just-food archive:
Interview: Warburtons on free-from plans at home and abroad
By Dean Best | 5 June 2015
Warburtons, the UK baker, continues to enjoy growth from its free-from unit Newburn Bakehouse as demand for gluten-free bakery products in the UK continues to rise. However, competition is intensifying. Dean Best spoke to Warburtons' free-from director Chris Hook at the Free From Food Expo in Barcelona, to find out more about the group's plans – not just in the UK but, potentially, elsewhere in Europe.
INTERVIEW: Warburtons plots free-from drive
By Katy Askew | 22 January 2013
Warburtons has unveiled an ambitious plan for its free-from business. The UK baker intends to double sales of free-from products during 2013. Katy Askew caught up with Warburtons free-from director Chris Hook to find out how this can be achieved.