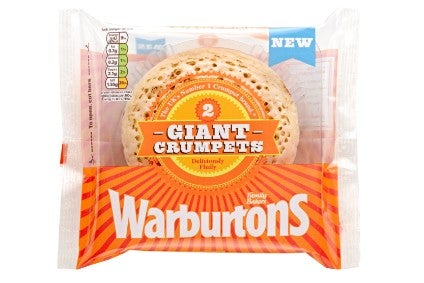 UK baker Warburtons has been forced to halt production of its crumpets at two of its four plants due to the on-going European carbon dioxide (CO2) shortage that has hit other food and drinks manufacturers.
The affected sites are located in Enfield, north London, and Burnley in Lancashire, a spokesperson at privately-owned Warburtons told just-food today (29 June.)
Warburtons has become the latest victim to be hit by the CO2 shortage, joining the ranks of UK meat and poultry processors, retailers, and drinks firms. The gas has multiple uses in the food industry from aiding in the stunning animals process in slaughterhouses to retailers and manufacturers using it to chill or extend the shelf life of foods.
Industry publication Gasworld said last week the supply position tightened in April, driven by the usual turnaround of maintenance procedures in ammonia plants. The shortage then started to become critical when other plants associated with bio-ethanol and chemical production were shut down for maintenance or for technical issues.
Tearmh Taylor, corporate and consumer affairs manager at Warburtons, said in a statement today: "As a result of the ongoing CO2 shortage, we are producing no where near the 1.5m packs of crumpets we usually make each week and have had to suspend production at a number of our bakeries.
"This will remain the case until the CO2 supply returns to normal. But, rest assured, we are working really hard to keep our products on Britain's shelves."
Meanwhile, industry body The Food and Drink Federation responded to the crisis and warned of the impact on the availability of food and drink on supermarket shelves.
FDF director general Ian Wright said in a statement: "We remain in discussion with a number of governmental departments, but many of the key questions we've asked in relation to the scale and timeframe of the CO2 shortage remain unanswered.
"There is a serious concern that consumers may face a limited choice of food and drink on supermarket shelves if a normal supply of CO2 is not restored as quickly as possible."
The impact of the shortage has intensified in the week since FDF chief scientific officer Helen Munday warned of the implications.
"Despite the focus in the media on certain sectors, this is an issue that will affect much of the UK's GBP112bn (US$147.4bn) farm-to-fork supply chain," she said last Friday.