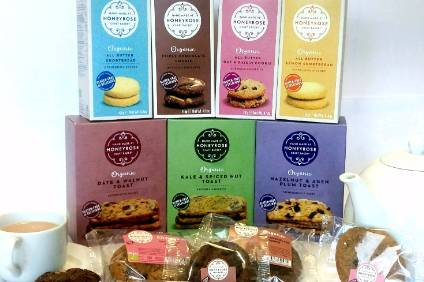 UK conventional and organic baker Honeyrose Bakery has become a dedicated gluten-free brand and has unveiled a range of new products, with plans to push further into the better-for-you category with snacks and "impulse offerings".
Honeyrose founder and managing director Lise Madsen said: "Honeyrose was well suited to go gluten-free because both gluten-free and organic consumers share the same concerns about what they put in their bodies."
"We began focusing on gluten-free back in 2009," Madsen said. "We then acquired Kent & Fraser in 2015, our other dedicated gluten-free brand, which accelerated our expertise and focus in gluten-free, and expanded us into savoury too."
Madsen, who launched Honeyrose 17 years ago, proudly claims the firm to be "London's oldest organic sweet bakery". She added: "We decided to go full barrel into our strength as an artisan baker, staying committed to organic, baking without shortcuts and now also gluten free."
"We have added new retail products, as well as impulse formats (25-55g) to our range, and to top it, with longer shelf life," Madsen said.
"We have lots of product development plans into further free-from categories, adding super foods, using less and more natural sugars, and going further into snacks and impulse offerings," Madsen added. "We have innovated some portion-control two-bit wonders, our new Mini's, at about 100 calories. It feels like our old start-up days, working manic hours to keep up with demand for on-trend healthier snacks."
The new rebranded Honeyrose range is available from selected retailers and wholesalers as well as online.