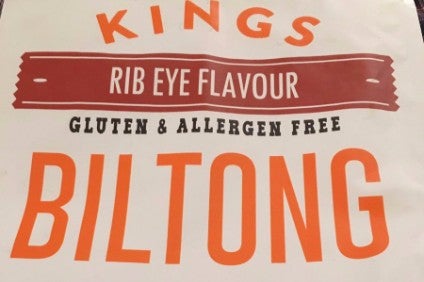 New World Foods (Europe), a UK manufacturer of dried meat snacks, will expand its capacity after receiving a seven-figure funding deal from bank HSBC.
York-based New World Foods (Europe) manufactures a range of meat snacks and supplies biltong and jerky to supermarkets and retailers in the UK including Tesco, Morrisons, Selfridges and Costco.
The business is part of Australia's New World Foods, which also sells its products in Japan and Korea.
Its brands include Kings, Local Legends and Mariani.
The Australian firm, then known as Mariani Foods, acquired UK food business Bare Earth in 2014 which then bought York-based biltong maker Kings Elite Snacks, which had been set up by England rugby union internationals Mark, James and Charlie Simpson-Daniel and Mike Tindall.
HSBC has provided the company with a funding package worth GBP1.1m (US$1.4m) to facilitate the expansion of the firm's manufacturing capability and support its growth plans.
The company plans to create up to 20 new manufacturing jobs in the coming 12 months and is targeting a 50% increase in turnover over the next year.
Charlie Simpson-Daniel, managing director of New World Foods (Europe), said: "The financial backing from HSBC will allow us to pursue our aggressive growth strategy.
"We are constantly launching new products and winning new clients, with significant growth being seen and forecast in the UK market.
"We are now the fastest-growing meat snack brand in the UK and Kings is the brand leader in biltong and expected to become the brand leader in Jerky in January 2018 through new product launches and sole supplier agreements."