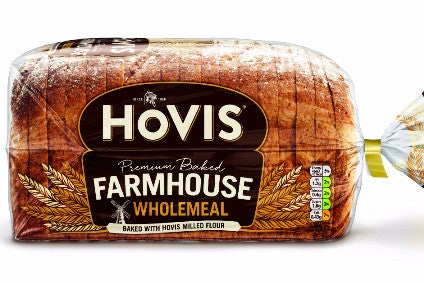 Hovis, the UK bread maker, has booked a loss of GBP19m (US$24.4m) for 2015, with the company, controlled by US private-equity firm Gores Group, pointing to a "highly competitive" category that hit its sales.
The company's loss compared to profit of GBP75.8m in 2014, according to a filing at Companies House.
Hovis' revenue reached GBP343.3m in 2015, a fall from the GBP391m it booked a year earlier.
A near-GBP5m rise in administrative expenses also contributed to the decline in Hovis' profitability. At the level of EBITDA, Hovis posted a loss of GBP2.1m, against a profit of GBP10.7m in 2014.
Hovis had exceptional costs of GBP6.6m in 2015, relating to moves to re-shape it supply chain and IT charges linked to setting up its own systems after the 2014 separation from Premier Foods plc, which sold a majority stake in the business at the start of that year. However, Hovis' incurred exceptional costs of GBP14.5m in 2014.
"The market for bread and bakery products remains highly competitive, with sales margins under pressure due to continuing broader changes in the dynamics of the supermarket grocery sector, notably the increasing importance of the discounters within the market," Hovis said. "The directors believe the company continues to develop a leaner, more efficient operating model alongside focusing on new product and business development. However, market conditions remain poor with excess capacity impacting volumes and business profit generation."
The results were filed at Companies House last month.
In April, Hovis named its third CEO in 18 months. It appointed executive chairman Nish Kankiwala its new CEO after Martyn Wilks decided to leave the business after a year in the role.
Wilks became Hovis in May last year, replacing Bob Spooner, who had left the business in January 2015.