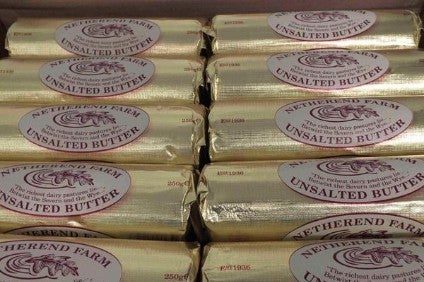 UK butter maker Netherend Farm has signed a deal with dairy product exporter Somerdale International.
The initial focus for the UK firm's products will be the Far East, in particular China and Japan, as well as the US and Australia.
Netherend, which makes traditionally churned butters, says international hotels and restaurants will be a target for its products.
The company's dairy is located on the family farm in Gloucestershire. Its products are already used throughout the UK by Michelin star chefs and can be found in "top hotels" and restaurants.

Linda Weeks, director of Netherend Farm, said: "Having established a premium positioning for our butters in the UK, we had always thought that the next step would be to export.
"We had a breakthrough when the Michelin starred chef Nathan Outlaw opened a restaurant in the hotel Burj Al Arab in Dubai and insisted on having our butter flown out to him from Heathrow. We then contacted Somerdale International to see if they would be interested in promoting our butter internationally. We're now really pleased to be working alongside them and are looking forward to a global future."

Stephen Jones, director and co-founder of Somerdale International, said: "We are witnessing a growing enthusiasm for high quality, great tasting, traditionally made, British dairy products in both established and new emerging international markets. The finest artisan butter made by Netherend Farm meets all these requirements and we believe that you will soon see it on the tables of leading international hotels and restaurants."

Somerdale International will be showcasing Netherend Farm butters at the Food & Hotel China (FHC) exhibition in Shanghai next week.