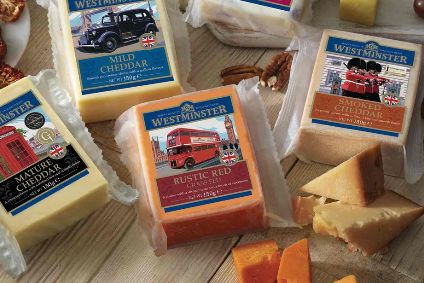 Somerdale International, the UK-based cheese exporter, is not expecting to benefit from a UK-US trade deal in the near future.
The company, based in Somerset in England's south west, pays a 25% tariff on the cheese it exports to the US.
The UK is keen to secure a unilateral trade deal with the US once the post-Brexit transition period ends in December and it leaves the European Union. However, Somerdale managing director Stephen Jones is not pinning his hopes on an agreement between London and Washington in the near future and existing tariffs being removed.
"I don't imagine there will be a trade deal. I can't imagine a deal with the UK is high on its [the US's] list of priorities," he said.
Commentators have suggested a win for Joe Biden in the recent US presidential election makes a trade deal between the countries less likely as Biden, who has Irish ancestry, is unhappy about changes made by the UK government to the Brexit Withdrawal Act, which he believes threatens peace in Northern Ireland.
Jones said the US tariff situation makes life as an exporter "more difficult but not impossible". It has actually grown its business in America since the tariff was introduced in October 2019.
"Our sales in the States have been pretty good," he said.
In the year to 31 March, Somerdale's US sales reached US$25m, up some 17% year-on-year. Its sales now represent around 20% of all UK cheese exports to America. It sells through grocers such as Walmart and club retailer Costco.
Somerdale, which exports UK cheese from manufacturers such as Singleton's and Cropwell Bishop, as well as its own Westminster brand, saw its global turnover increase by 9% year-on-year to GBP41.9m (US$55.9m) with China also emerging as a key market for the company, which sells products in more than 50 countries.
The business does not count the European Union as a major market for its products which means it is less concerned about a post-Brexit UK-EU trade deal – still being negotiated at the time of writing – than some of its peers.
Jones said: "We do very little in Europe. We tend to focus on harder markets.
"But we do sell to South Korea via Holland and we don't know how easy that is going to be or even if we will have to pay duty to get into Holland."