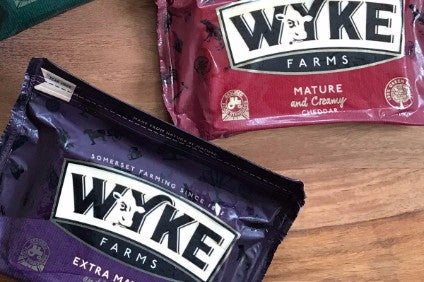 Wyke Farms, the UK independent cheese producer, has inked a distribution agreement with Westland Cheese of the Netherlands aimed at increasing its presence in Europe.
Based in Somerset in western England, Wyke Farms is seeking to boost sales of its cheddar products in countries including the Netherlands and Germany.
It said the deal with Westland – for which terms have not been disclosed – was instigated after a market prioritisation study to identify key areas with the most potential. Through the study, the Netherlands and Germany were identified as key markets for growth.
Wyke Farms said it chose Westland Cheese as a distributor because of the firm's ability to reach both Dutch and German consumers as it has done for the past 80 years with the 'Old Amsterdam' gouda brand.
It said listings for Wyke Farms products have already been secured by Westland with "many more" in progress.
Rich Clothier, managing director of Wyke Farms, said: "Quality produce from Great Britain has been very well received in European markets. The time is right for us to increase our offering into these regions and have chosen the best partner to help us do this."
Henny Westland, managing director of Westland Cheese, added: "We are delighted to develop a strategic partnership with a family business that holds strong and similar values to our own. At an unprecedented time of change, these values, quality of products and way of doing business have a clear competitive advantage and point of difference to consumers in the market."
Wyke Farms has been exporting cheddar to more than 160 countries for the past 20 years.
The Wyke Farms brand is the fourth largest in the UK cheddar category, according to the company. It has annual retail sales of more than GBP60m (US$75m).