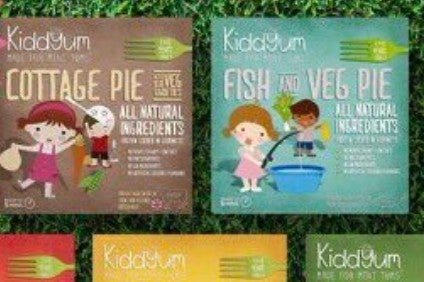 UK frozen children's food company Kiddyum has signed a deal with The Authentic Food Co. which will see the production of its meals moved to its new partner's manufacturing site in Stockport, Greater Manchester.
The deal will see Kiddyum's existing five-strong range – under the Kiddyum brand – reworked and the two companies develop new meals in 2018. For The Authentic Food Co. – which produces a wide range of frozen world food products on a white label basis – the agreement represents an expansion into the baby food market.
Manchester-based Kiddyum sells its products via 'big four' UK supermarket Sainsbury's and online service Ocado and the newly announced partnership with The Authentic Food Co. coincides with a roll out of its meals at Co-op Food stores.
Kiddyum was founded by mum-of-two Jayne Hynes who went on to win Sainsbury's Pitch-Up competition. The frozen meals are made with British meat and dairy and MSC-certified fish, and contain no added sugar and low salt.
Since its launch, sales of Kiddyum have increased by 30% year on year, and the company is now planning overseas expansion and new product development.
Hynes, said: "These two important developments have come in quick succession.
"Our Co-op Food roll out follows increased consumer confidence in frozen, and long-term growth in sales of healthy frozen foods. Both have been important factors in Kiddyum's recent success as parents look to the freezer aisles for a nutritious and convenient alternative to home cooking.
"The Authentic Food Co.'s ethical credentials were a huge factor in our decision to shift production, as was their commitment to producing quality meals. We're sure this partnership will give us a fantastic commercial edge and supports our ambitious future plans for the brand with new products and overseas expansion on the agenda for 2018."
Kiddyum's five-strong range consists of Cheesy Peasy Pasta, Chicken Curry and Rice, Cottage Pie, Fish and Veg Pie and Macaroni Bolognese.