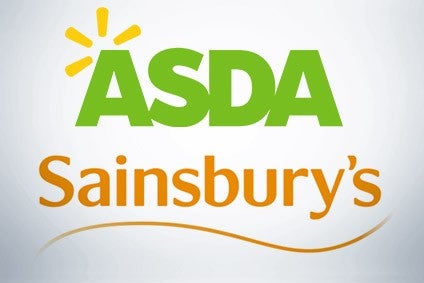 The UK's competition watchdog said today (13 December) its decision to push back the timeline for the "provisional" findings into its review of the proposed merger between big four supermarkets Sainsbury's and Asda was not in response to the retailers' request for an extension.
A UK court is due to hear that request on Friday, with the Competition and Markets Authority (CMA) planning to contest the request because it says any delay would be "detrimental" to its enquiry.
In a standard update regarding its enquiry into the merger, the CMA said today the deadline to "notify [its] provisional findings and consider possible remedies" into the merger has been amended to January or early February. It had previously been set for early January.
Only this week, Sainsbury's and Asda issued a combined request, or a so-called judicial review, to the CMA asking for an extension to the deadline, saying the second- and third-largest supermarkets in the UK needed more time to prepare a response to the watchdog's probe.
The retailers said: "Specifically, we have asked the CMA for an additional 11 working days over the Christmas period to respond to a large amount of material recently provided to us." Both Sainsbury's and Asda added that the existing timetable "does not give them or the CMA sufficient time to provide and consider all the evidence given the unprecedented scale and complexity of the case".
However, the CMA said today its new timetable for the provisional findings of the probe were not related to that request, which is to be considered separately at the court hearing beginning at 10:30 a.m. GMT.
A CMA spokesperson said in a statement: "The change to the administrative timetable does not relate to the litigation that has been brought before the Competition Appeal Tribunal (CAT). We will be vigorously defending our position tomorrow in the CAT, as we are clear that any further delay to the timetable could be seriously detrimental to the investigation."
Meanwhile, the statutory deadline for the merger enquiry, 5 March, remains the same, another CMA spokesperson told just-food.
Earlier this week, the CMA had warned in response to the extension request from Sainsbury's and Asda that any delay would put the completion of its investigation at "serious risk".
"Investigating any merger of this size requires assessing a large volume of material in a short time-frame, and it is not unusual for the companies involved to do this in the timelines we have been working to with Sainsbury's and Asda," the CMA's earlier statement read. "We have done everything we can to aid their consideration of this work, whilst still ensuring we are able to meet our legally-binding deadline. This includes extending certain administration timelines where appropriate.
"If we gave the companies the extra time they are now asking for, it would put our ability to complete the investigation by the required deadline at very serious risk. As with all of our merger reviews, we construct our timetable to ensure that everyone has the chance to have their say, including customers, the companies involved and suppliers."