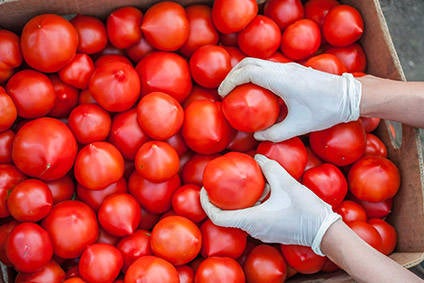 UK consumers have "very low knowledge" of genome-edited food, with most unaware of the technology or confusing it with genetically-modified food, the Food Standards Agency has reported.
Some 42% of respondents to a survey of more than 2,000 consumers across England, Wales and Northern Ireland said they had "never heard" of genome-edited food. Three per cent claimed they knew "a great deal" about the techniques.
A range of techniques used to alter the DNA of organisms – adding, deleting or replacing DNA sections – come under the definition of gene editing. The FSA said its research focused on one specific sub-set of gene-edited foods, where outcomes may otherwise have been produced using traditional breeding. Specific points of an organism's DNA are edited. Genetic modification sees new DNA introduced into the genome of an organism "in a non-targeted way", the FSA notes on its website.
Advocates of gene-editing say the techniques mean changes can be made more quickly and precisely to improve traits in an organism, such as the nutritional content of crops or their resistance to disease.
The survey was carried out after the Westminster government launched a consultation in January into the future regulation of genetic technologies in England. The consultation, which invited responses on a proposal to remove the rules governing genome-edited food from wider regulation on genetically-modified food, closed in March.
The Food Standards Agency (FSA) said its survey found "more informed consumers were, or became, more accepting of genome-edited food, despite some still having concerns".
Respondents "tended to find genome-edited food more acceptable than GM food, typically because they perceived it as safer and more natural", the FSA noted.
However, the agency said "others still felt genome editing was unnatural and more closely aligned with GM than conventional breeding" and added: "Consumers found both GM and genome editing applied to plants more acceptable than either GM or genome editing applied to animals, so GM plants were generally seen as more acceptable than genome-edited animals."
Most of the respondents to the survey, carried out with 2,066 adults aged 16 to 75, "felt it would be appropriate to regulate genome-edited foods separately from GM foods, because they are two different techniques," the FSA said.
"However, many participants felt that the level of scrutiny, testing and regulation should be just as high as for genetically modified organisms (GMOs), at least to begin with. They felt that as a newer technique there may be unknown risks. They were concerned that large corporations prioritising profit might undermine potential benefits for consumers, animals and the environment unless regulated carefully."
The agency added: "Consumers felt labelling of genome-editing foods should always inform consumers of the presence of genome-edited ingredients using the full term 'genome edited'."
In its report, the FSA acknowledged there is not a single definition of genome editing used in the UK. The agency said it "recognises that genome editing uses a spectrum of tools and can result in a range of modifications" and added the definition used in the study was agreed on to align with the government's consultation and "focuses specifically on genome editing in plants and animals that could also be achieved using traditional breeding".
The report stated: "It is important to note that the definitions used may have framed research participants' views during the research, especially where previous awareness was low, and these definitions were the only ones that participants had encountered. This is particularly true where participants noted that genome editing usually produced changes that could have happened through natural mutations or conventional breeding methods."
The Westminster government's Department of Environment, Food & Rural Affairs (Defra) holds the lead responsibility for GMO legislation in England and for genome editing which currently falls under it.
The responsibility of food and feed produced from GMOs is held by the FSA in England, Wales and Northern Ireland. Food Standards Scotland has responsibility in Scotland.
Under the existing Northern Ireland Protocol that is part of the UK and the EU's post-Brexit trading arrangements, Northern Ireland is obliged to align with the EU's single market rules on food and feed, which includes matters related to GMOs.
The UK government disagreed with a 2018 European Court of Justice ruling that genome-edited organisms should be regulated as GMOs even when the outcomes could have been generated by traditional breeding methods.
There is now interest in reviewing the regulation of genome editing, which requires changing the definition of a GMO in legislation.
"Genome editing in food may be an area of policy divergence now that the UK has left the EU, as the UK government vocally intends to drive change in this area," the FSA's report stated.