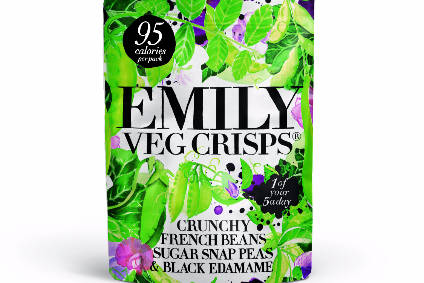 A minority stake in fledgling UK fruit and vegetable crisp maker Emily Crisps has been sold to private-equity firm Inverleith and investor club Hothouse Brands.
London-based Emily Crisps, set up in 2014, sells its snacks in the UK and in more than 10 markets overseas.
Inverleith and Hothouse, headed by Scottish businessmen John Dunsmore, Ben Thomson and Paul Skipworth, have bought a "significant" minority stake in Emily Crisps. Financial details were not disclosed.
Founders Emily Wong and Alex Ascani will continue to own the rest of the business.
Skipworth, a former CEO of Scotch whisky company Glenmorangie, said: "Supported by the Inverleith and Hothouse experience and expertise, we believe that Emily Crisps is perfectly positioned to becoming a leading healthy indulgence snack of choice for those who wish to be able to snack healthily without sacrificing on quality or taste."
Wong said Inverleith and Hothouse had been attracted to increasing demand for healthier snacks. "Traditional potato crisps are not growing as fast as healthy indulgent snacking. This is the growing trend the investors have identified. They are certain that Emily Crisps is firmly placed to enjoy momentum in this sector which targets health-conscious consumers," Wong told just-food.
Emily Crisps has secured listings in the UK with retailers including Waitrose and Whole Foods Market.
Outside the UK, Emily Crisps will look to increase its presence in key markets next year. "The plan is continue growing key overseas markets in Ireland, France, Scandinavia, elsewhere too, but these are important. The new investment will enable the brand to increase awareness, expand operations and increase reach," she said.
Wong would not comment on Emily Crisps' annual sales or earnings but added: "The business is profitable and fast growing. Projections are, inevitably, for significant growth."