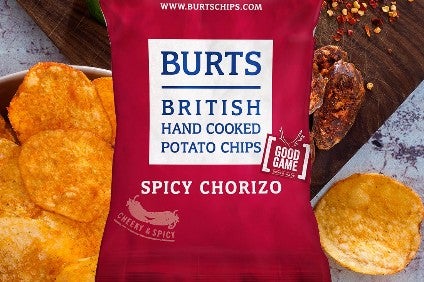 Burts Chips, a UK crisps firm, has invested GBP3m (US$4m) in equipment to expand production capacity by 20%.
The Devon business has installed a new high-speed potato frying line at its Plymouth production site which it says will help meet the "growing demand" from retailers for its brand across the UK, the US, Canada, and countries in the EMEA regions.
Production of its crisps will increase to 200 tonnes per week of its hand cooked 'chips', while its Better For You range of Lentil Waves and Quinoa Crinkles will see volumes jump to 23 tonnes.
Burts managing director David Nairn said: "The investment this year forms part of an on-going programme over the last five years that has seen nearly GBP12m spent increasing production capacity and driving efficiencies at our Plymouth site,
"This has enabled us to realise significant year-on-year growth across all areas of our UK and export business, taking the company from GBP11.4m [of revenue] in 2013 to GBP24.5m in 2016.
"This year we are on course to grow by a further 30% and the new potato fryer is integral to this success, giving us the additional capacity needed to fulfil increased demand from our existing customers, as well as driving new business and innovation."
Further investment is also planned in the first quarter of 2018, with the introduction of a fully automated palletisation system.
Burts has also added a further 12 people to its team in Plymouth to help man the new fryer and manufacture this additional volume. This brings its total headcount to 168.
The company was founded in 1997 and has forged a number of licensed partnerships with beer brands such as Diageo's Guinness, Marston's-owned beer brand Hobgoblin and spicy sauce business Levi Roots.