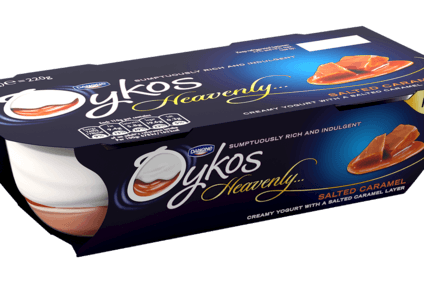 Danone is targeting consumers wanting indulgent evening desserts in the UK with the launch of its Heavenly range under the Oykos brand.
The Greek yoghurt themed desserts are available in salted caramel and cinnamon apple flavours and are available in supermarkets across the UK this June.
Esme Rodger, Oykos brand manager, said: "The sumptuously rich and creamy taste of Oykos yogurt, combined with our Heavenly new flavours, make it a perfect evening 'me time' treat. Our consumer tests have shown the new range to be incredibly successful.
"Oykos is one of the biggest growth drivers in the luxury yogurt category. We are confident that the Heavenly launch will help us cement consumer perceptions of Oykos as a truly luxurious and indulgent brand," she added.
Oykos Heavenly launches in the UK this month for a RSP GBP1.49 (US$2.53) for a pack of two.
Last week Danone launched a range of after-meal Greek-yoghurt based desserts under its Dannon Creamery banner in the US in a bid to grow the dairy category, and capture meal occasions later in the day.