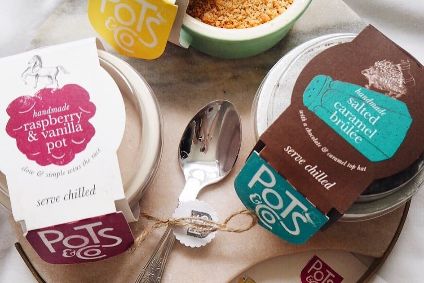 Pots & Co., the UK-based desserts supplier, is weighing up whether and how to meet growing consumer demand for healthier puddings.
The company, set up six years ago, has built a growing business in its domestic market and secured some notable listings overseas, including with Costco in the US, Carrefour in France and with Ahold Delhaize in the Netherlands and Belgium.
The London-based firm is expecting another year of growth, with a forecast sales will be "just under GBP14m (US$18.4m)", commercial director Alexandros Theocharides told just-food.
Theocharides said to grow sales further Pots & Co. would be looking to increase its distribution in the UK, where its retail customers include Tesco, Sainsbury's and Waitrose. Elsewhere, he described the US as a market of "humongous potential".
The growth at Pots & Co.'s has been based on a product range that includes desserts like chocolate fudge pudding and a rhubarb and custard dessert.
However, asked what trends Pots & Co. could look to meet with its future innovation in the UK, Theocharides indicated the company was also mulling how to tap into interest among consumers for healthier products.
"From an innovation perspective, through different channels, we see the health trend is a big one for us," Theocharides said. "We are reviewing different ways in which we can capitalise on that, whether that's different sizes, whether that's potentially a different way of making the pots, so they are slightly less calorific.
"This health trend could potentially be a big thing. It's about how we can actually cater for it. The idea is: 'How can we still have an awesome, great indulgent product but perhaps with a slightly less indulgence?'"
Internationally, the US, France, the Netherlands and Belgium remain notable markets for Pots & Co. Looking at Pots & Co.'s retail sales, which account for the bulk of turnover, the firm generates the majority of its top line through markets outside the UK.
Theocharides suggested there were other markets on the firm's radar. "There are a couple of markets that we see as potential prospects – Canada being one and Japan being another," he said. "[But] even after our growth, we still are quite a small business. We do have to be focused on our current markets, our current retail clients and then slowly and steadily approach these other potential markets."