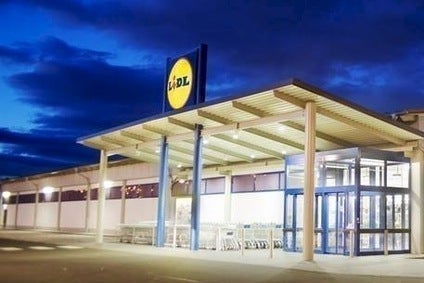 Discount retailers' share of the UK grocery market will almost double by 2019, according to forecasts from industry analysts IGD.
The likes of Aldi, Lidl and Iceland Foods have increased their shares of the UK market in recent years as the economic downturn hit consumer spending.
The discounters' continue to make inroads even as the UK's economy has slowly showed signs of improvement and are putting pressure on the country's Big Four food retailers – Tesco, Asda, Sainsbury's and Morrisons.
According to IGD figures released yesterday, discounters account for 6% of grocery sales in the UK; by 2019, that will rise to 11%, the analysts said.
In the year to April, discounters generated GBP10.8bn of sales. In the 12 months to April 2019, that will rise to GBP21.4bn, IGD predicted.
The online channel will be the fastest growing part of the market. It accounts for GBP7.7bn in sales, or 4.4% of the market. IGD forecast that share would more than double in value to GBP17bn and will be worth 8% of the market, boosted by a surge in usage of home delivery and click and collect services.
Growth in the convenience channel will be slower. Convenience stores account for 21.1% of the UK grocery market. IGD said that would rise to 24.1% by 2019.
The growth of the disount, online and convenience channels mean the share of sales made at supermarkets and hypermarkets is forecast to fall from 42.2% to 34.9%, although still the single largest channel in the UK grocery market.