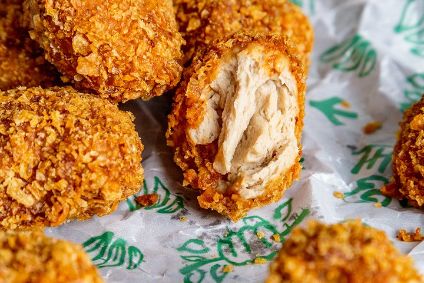 VFC, the UK start-up which makes plant-based 'chicken', has been backed by funders to the tune of GBP2.5m (US$3.4m).
The seed funding round was led by specialist investor Veg Capital and included investment from the company's senior leadership team and Johnson Resolutions, an investor in companies offering plant-based products.
VFC – which stands for Vegan Fried Chicken – said the funds will be used to scale up production and accelerate the growth of the brand in the UK and abroad.
The company, based in York in northern England, was founded by chef Adam Lyons and vegan entrepreneur Matthew Glover, who also co-founded the Veganuary campaign, which encourages people to give up meat, fish and dairy for the first month of the year.
Glover, who is also the managing director of Veg Capital, will become VFC's CEO to lead it through the next stage of its growth.
Despite only launching in December, VFC has won listings with a number of UK independent retailers and with outlets in Spain via Madrid-based specialist product supplier Vegan Nutrition. It also has a D2C operation.
On the prospect of listings with major grocers, a VFC spokesperson told just-food: "We have been in discussions with several of the leading retailers and expect to make an announcement on that very soon."
Director of sales Stewart McGuckin said: "The launch phase has been phenomenally successful, with sales far exceeding our expectations, incredible foodservice and retail interest, as well as enquiries from more than 50 countries."
The company said that, following customer feedback, it is working on version two of its product with the aim of "making the product even more 'chicken-like' in terms of texture and flavour profile".
VFC said that by the end of 2023 it hopes to achieve sales of GBP20m and GBP50m in financial year 2025.
Veg Capital financial advisor Cliff Johnson said: "VFC is exactly the type of company that Veg Capital looks to support. From the focus on removing as many animals from the food chain as possible to their unbashful activism, supporting the education on the impact of one's dietary choices, we are proud to follow on from our pre-seed investment and support the team in their growth plans."