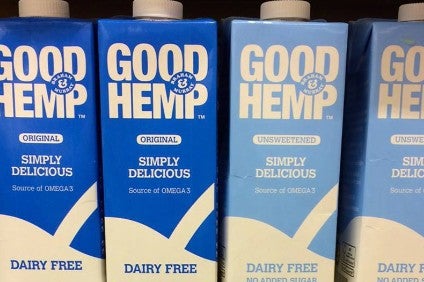 Braham and Murray, the company behind UK hemp food-and-drink brand Good Hemp, has sold a majority stake to existing investor and local private-equity firm Inverleith.
The business, which manufactures food and drinks from hemp seed, first attracted investment from Inverleith in 2014 and founders Henry Braham and Glynis Murray have decided to sell a further stake in the company to try to grow distribution in the UK and overseas.
Braham and Murray launched its first product, Good Oil, into the UK retail channel in 2004. The company's range now includes protein supplements, protein flours, hemp seeds and an ambient milk alternative, the firm's flagship product.
Announcing the investment, Inverleith said hemp seeds are "rich in omega 3 and GLA, a source of high-quality proteins and dietary fibres".
The private-equity firm also claimed hemp, which it said contains no THC, the psychoactive element found in cannabis indica, has "strong environmental advantages", with no need for pesticides to grow and using "fourteen times less water to grow than cotton".
Paul Skipworth, Inverleith's managing partner, said: "The company is firmly placed to take advantage of the high-growth, plant-based, food-and-drink trend, with high-quality hemp-based products which are nutritionally rich, whilst also being manufactured from a sustainable plant. We believe that Good Hemp is perfectly positioned to reach new consumers and continue to flourish both in the UK and internationally."
Inverleith's other investments include UK sparkling wine business Chapel Down and local fruit-and-vegetable crisp manufacturer Emily's Crisps.