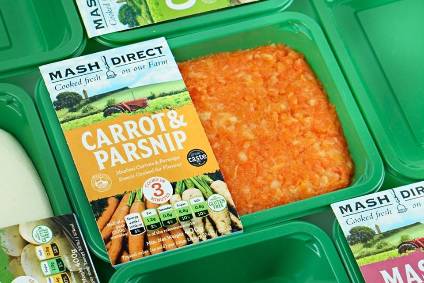 Mash Direct , the UK supplier of prepared-vegetable products, is to up capacity in a series of initiatives that will also take in moves to make its factory more sustainable.
The company plans to add production lines to its on-farm facility in County Down in Northern Ireland. As well as increasing production capacity, the new lines will help the business manufacture new items.
Family-owned Mash Direct is also looking to improve the impact the facility has on the environment. The company is investing in generating power from solar and wind, as well as installing a new wastewater treatment facility.
Mash Direct COO Jack Hamilton said: "With growing demand for our range of products at home and abroad, it was essential that we invested in new, environmentally friendly machinery and in the talented, skilled staff we currently have. "Improving our carbon footprint is very important to the business and great strides will be made to do this with our investment in new technology."
The investment plans follow agreement on funding from bank HSBC worth GBP10m (US$13.1m). Mash Direct supplies major grocers in the UK and Ireland. Its range of products include around 40 processed vegetable and potato dishes.
In December, Mash Direct filed the financial results for its year to 28 February 2019. During that year, turnover rose 8.7% to GBP18.4m.
Pre-tax profits before exceptional items stood at GBP631,989, versus GBP587,617 a year earlier. Net profit after tax before exceptional items was GBP800,920, higher than the GBP656,162 generated in the previous year.
However, on a reported basis, pre-tax profits and net profit was lower year-on-year (at GBP22,246 and GBP191,177) due to the exceptional write-off of stock that had been produced for a US retailer.
Mash Direct's products are now available in the US but a delay in listing those products with the unnamed retailer during that financial year meant the company booked a charge on its accounts. It said the value of the stock written off was GBP609,743.