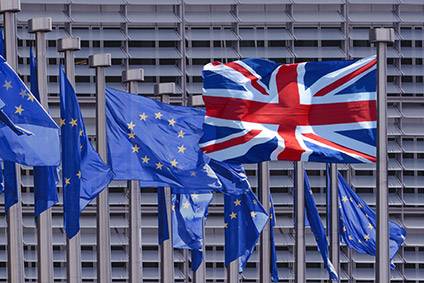 UK food and drink exports to Europe were down markedly in the first quarter compared to pre-pandemic levels, research shows.
Figures released by the UK's Food and Drink Federation (FDF) showed exports to Europe were GBP3bn (US$3.77bn) in the first quarter of 2022, up 45% year-on-year but down 17.3% when compared to the opening three months of 2019. The UK left the EU in January 2020.
The large increase over last year's figure is, says the FDF, due to a "sharp drop" in sales in the first quarter of 2021 due to stockpiling and the "need of businesses to adapt to new trading requirements with the EU".
But the longer-term decline in trading with the bloc – by far the UK's largest trading partner – remains an area of concern.
The FDF said: "A key priority for our sector remains improving the implementation of the UK-EU trade agreement."
More positive is the overall export figure of GBP5.3bn, up 30.8% year-on-year in the first quarter, with shipments of items such as fish and bakery ingredients to Canada and India helping drive exports to non-EU countries. Shipments to Canada rose by more than a quarter compared to the pre-pandemic period while shipments to India rose by more than a fifth.
The FDF's figures also revealed exports to the US, Australia, Japan and the UAE were also higher than pre-pandemic levels.
Overall, total exports were down 7% in the opening three months of 2022 compared to the first quarter of 2019.
Dominic Goudie, the FDF's head of international trade, said: "Trade plays a key role in boosting the UK economy, with high exports ensuring food and drink companies can thrive and imports offering shoppers in the UK a wide range of quality products at prices they can afford.
"This is particularly important now, at a time of soaring costs to businesses and consumers, that the UK utilises trade as a deflationary weapon."
Food and drink imports were more than 13% higher in the first quarter than in the corresponding period of 2019.
However, the FDF added a note of caution. "One unknown remains the impact of the war in Ukraine, where we are seeing energy prices rise and supplies of certain key ingredients – including vegetable oils, cereals and white fish – being strained, all of which are vital for many of our importers."