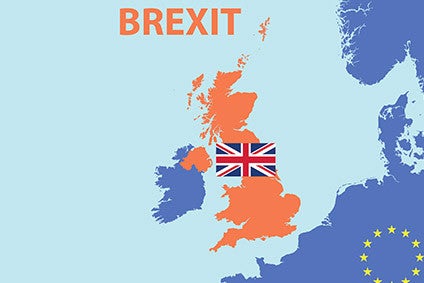 The heads of 35 UK food and drink suppliers' organisations are calling on the government to reach an early agreement on future trade with Ireland in the run up to Brexit, to avoid "a cliff-edge scenario that results in a sudden transformation" to existing arrangements.
UK Food and Drink Federation (FDF) director-general Ian Wright is among signatories to the open letter that stresses the "particular importance" of negotiating an early deal with the Irish Republic, which will remain in the EU and is the UK's only land border with the bloc.
According to the letter, "Ireland buys more from us than the US, China, Russia, Brazil, Canada and Japan combined". The letter read: "Nearly a fifth of UK food and drink exports go to Ireland, with more than a third of Ireland's reaching UK shores."
In addition, the letter said one-quarter of all Northern Irish milk is processed over the border in Ireland, while "more than half of Irish beef and cheese goes to the UK". The UK also supplies 80% of the flour used in Ireland, the letter said.
"New disruptive customs barriers, port health controls and other costly bureaucratic requirements that impede the movement of goods and workers must be avoided," the letter said. "They would disrupt established supply chain networks that operate across the UK and Ireland and would cause significant economic damage while adding to existing food price inflation faced by consumers."
Figures released by the FDF last month showed the value of UK food and drink exports grew by 10.5% in 2016 to a record of more than GBP20bn (US$24.2bn). Ireland ranked first in the UK's top 20 export markets league table, with exports valued at more than GBP3.4bn – an 8% increase over 2015.
Irish agri-food and drink exports exceeded EUR11bn (US$11.7bn) for the first time in 2016, although the UK's vote for Brexit cut the value of trade by a potential EUR570m, according to Bord Bia, the Irish Food Board.