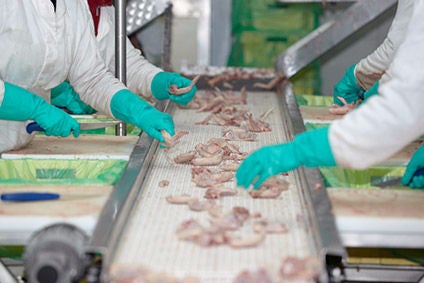 Bodies representing the UK food industry have welcomed the news the Government has agreed a deal with US fertiliser group CF Industries to avert a supply crisis caused by a shortage of carbon dioxide, at least for the time being.
However, industry associations have said they now want to work with ministers to "build resilience into the production of CO2" to ensure similar scares do not arise in the future.
The Government described the deal agreed yesterday (21 September) as an "exceptional short-term arrangement". CF will resume output at one of two fertiliser plants in northern England where shutdowns last week linked to high gas prices led to fears of pressure on food supplies. The two CF Industries plants account for 60% of the country's CO2 production, food industry executives say.
CO2 is a by-product of fertiliser manufacturing and widely used in areas such as meat processing and the packaging of chilled foods.
While welcoming the agreement – a three-week underwriting of operating costs at the plant which will cost the UK taxpayer tens of millions of pounds – the food industry is seeking longer-term solutions.
Nick Allen, chief executive of the British Meat Processors Association (BMPA), said the deal "comes as a huge relief in the short term and will allow meat producers to continue their operations beyond next week".
However, he added: "If we are to return to a normal functioning of the CO2 market, there will need to be some complex discussion on how to re-negotiate and restructure CO2 supply and pricing in the UK.
"Over many years, we have had a major consolidation of the industry, resulting in sectors like food and drink, nuclear and health being reliant on a very small number of very large suppliers. If a market-based solution is to be found, it will likely involve longer-term higher prices for CO2, which will be sustainable for some but not all users of the gas.
"On the flip side, a re-setting of the CO2 market and pricing structure may prompt new CO2 suppliers to enter the market. There are a number of companies that produce CO2 as a by-product but, as yet, don't capture and sell it. A significant price rise may make this viable and also dissipate the effect of consolidation in the industry."
Allen said the BMPA's members are now focused on re-establishing their supplies of CO2 "before Friday this week, which is when around 25% of pork production was in danger of shutting down".
He explained: "We understand that it will take around three days to get the Teesside plant back up and running which should be just in time.
"After that, we have some important work to do to discuss how these markets can be re-shaped to take the risk out of our supply chains. Part of that discussion will involve the kind of consolidation that's taken place, not just in the CO2 market but elsewhere in the supply chain, for example, the shipping container sector.
"Once this immediate crisis is averted, we will be suggesting that Government, with the help of ours and other sectors, does a comprehensive review of how our modern supply chains have evolved and where vulnerabilities have crept in. This will form the basis of future solutions so we can avoid this situation in the future."
Ian Wright CBE, chief executive of pan-industry trade group The Food and Drink Federation, took a similar line. He said: "The Government announcement that carbon dioxide production is to re-start immediately is very welcome. If production can re-start at appropriate scale before the end of the week, this should be enough to ensure pig and poultry production can continue as normal. There will be some shortages, but these will not be as bad as previously feared.
"We are continuing to work with Government to ensure supply continues beyond three weeks. Once we are certain that the immediate supply issues are resolved, we will then work to build resilience into the production of CO2 to protect our food supply chain."
The British Poultry Council, which had called on the UK government to "financially support" the production of CO2 in the country until the end of the year, also gave the news of a deal a tentative welcome.
Richard Griffiths, the council chief executive said: "We are pleased that the Government has listened to us and acted quickly. This announcement is good news for the short-term continuation of CO2 production to keep food moving, but this is just the start of a long road ahead.
"This episode has demonstrated the importance of CO2 in British poultry production, to avoid both bird welfare and supply issues. Food is a national security issue and must be treated as such – total poultry production in this country is around 20 million birds a week.
"Supply is not something you can simply switch on and off, as this crisis has demonstrated. Our member businesses have worked tirelessly to mitigate the issues brought on by shortages these past few days but we must now start thinking longer-term.
"The run-up to Christmas requires additional pressure on existing supplies as demand increases across the board. We look forward to working with [Government departments] Defra and BEIS to look at longer-term solutions to mitigate future impact on food supply in the UK."
Andrew Opie, director of food and sustainability at the British Retail Consortium, which represents the country's supermarkets, added: "We welcome the announcement of a deal to get CO2 production back to normal levels. By taking decisive action on this important issue, the Government will help prevent availability issues arising from CO2 shortages.
"It is vital that production at the Cheshire and Stockton-on-Tees plants is restarted as soon as possible and distributed quickly to food manufacturers in need of it."