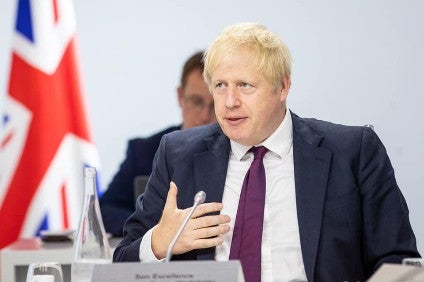 The UK's Food and Drink Federation (FDF) has warned the industry is entering "dangerous territory" after Prime Minister Boris Johnson said the country should prepare for a no-deal Brexit.
Speaking to broadcasters today (16 October), Johnson said it is time to "get ready" for trading arrangements with the EU to be "more like Australia's" from 1 January.
Australia only has a limited set of agreements with the EU whereas the UK would rather have a Canada-type arrangement which is a much meatier trade deal. Canberra is also holding talks over a free-trade agreement with Brussels.
The UK and the EU held fresh talks this week in a bid to move to closer to a free-trade agreement, which would come into force next year.
However, Johnson said today: "Given that they [the EU] have refused to negotiate seriously for much of the last few months, I have concluded we should get ready for 1 January with arrangements more like Australia's based on simple principles of global free trade."
Michel Barnier, the head of the European Commission's task force for relations with the UK, is due in London next week for more discussions. Stark differences exist in areas such as fishing rights and competition issues.
The FDF has called on a renewed push to try and get a deal done. Chief executive Ian Wright said: "The Prime Minister's statement signals that we are heading into very dangerous territory. The perils of a no-deal exit for GB food and drink manufacturing remain as real as ever. We need leaders on both sides to find a way past the current impasse in order to progress talks.
"In the event of a no-deal Brexit, shoppers will – literally – pay a heavy price. Imported food and drink from the EU will face eye-watering tariffs, averaging 18%, kick-starting price rises. At the same time, border delays and disruption will bring further costs which will not be subsumed by industry. A no-deal outcome is bad for food and drink businesses, bad for food security, and bad for every household in Great Britain."
Johnson told UK broadcasters unless there is a "fundamental" change of direction from the EU the two sides would not be able to agree a post-Brexit economic deal. The EU has said it is up to the UK to make the next move.
Both the UK and EU previously targeted the end of October as the final date to get a deal done – allowing enough time for it to be ratified before 31 December. But on 7 September, Boris Johnson shortened that deadline to 15 October, which has now passed.
If no deal is done, the UK will trade with the EU according to the default rules set by the World Trade Organization.