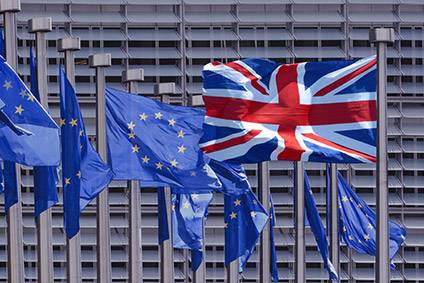 Food industry representatives at a UK parliamentary committee meeting today (13 December) stressed that firm and specific details of a Brexit transition agreement would be keenly welcomed to give businesses sufficient time to prepare for an eventual exit.
Some 18 months after the British public voted to leave the European Union, uncertainty remains a main concern among business leaders in the food and drinks industry, who potentially face higher costs and labour shortages when the UK leaves the bloc in March 2019.
Asked whether he is confident the UK can get a suitable trade deal done, Ian Wright, director general of the Food and Drink Federation (FDF), replied: "Let's hope so. I am quite upbeat about the prospect."
"My biggest concern is the time," he said. "I think we are almost out of time to get what we need."
However, Brexit does present opportunities for UK exporters, he added, but we need to get through the uncertainty first.
"I think there is a lot of opportunity," he commented in reply to a question on the claims made by the Department for Environment, Food and Rural Affairs (Defra) that an EU exit offers a "golden opportunity" for the UK food and drinks industry.
"My concern is that all the opportunities are back-loaded and all the risk is front-loaded," he said. "And the uncertainty of the next two to three years, just beyond the transition if there is a two-year transition, is really, really concerning, and the quicker we get to the detail of that the better, and the less concerns people will have."
Food prices could rise by 7-10% if we do not get a deal, and it might be difficult to get the right outcome if we are "time constrained", Wright added. Further weakness in sterling, potential tariffs, customs barriers and higher wages as a result of any labour shortage would be the drivers behind higher prices, he said.
In terms of choice to British consumers, availability of food stuffs, the profitably impact on businesses and the economical impact, Wright said that a no deal would be "pretty catastrophic".
Asked to comment on whether a no deal was better than a bad deal, he blankly replied, "no".
"A bad deal is a bad deal. It's bad."
In response to a question from a committee member, Wright said his main concerns revolve around labour and its availability, regulatory convergence, and customs and tariffs.
"At the moment, we face the prospect of potentially four separate sets of regulations when we transfer out of the single market."
He said he is "most concerned about a disorderly Brexit because we rely on just-in-time – food is uniquely impacted by the failure to deliver just-in-time, and this is our biggest concern".
The FDF represents UK manufacturers and importers across the food chain, and has almost 300 members.
Wright added: "The real concern for many of our members is that they exchange an absolutely certain status quo that they've lived in for 40-plus years."
Still, Brexit also presents an opportunity, but it is important that Britain gets a trade deal with the EU first, before we look at other geographical markets, he said, naming India, China, Japan, Dubai and North America as examples going forward.
"The export opportunity is pretty huge" given that we "under export food in this country massively," he added.
"We absolutely have to do a comprehensive, bold and ambitious trade deal with the EU," Wright emphasised. "That is the cornerstone of the future prosperity of the food and drink industry."