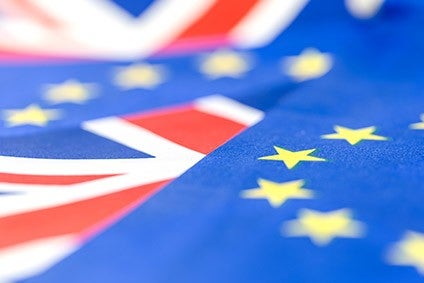 An industry body representing the UK food and drinks sector is calling on the government to dispense with certain aspects of existing competition laws in the event of a no-deal Brexit scenario.
The Food and Drink Federation (FDF) has repeatedly urged authorities to offer more clarity on the outcome of a no-deal Brexit when the UK officially leaves the European Union in October after the previous deadline in March passed without any agreement.
In particular, the FDF is concerned about the continuity of supply chains in delivering food and drink across the country post October as existing competition rules prohibit suppliers and retailers from discussing supply or pricing.
Tim Rycroft, the FDF's chief operating officer, said in a statement: "In the event of no-deal disruption, if the government wants the food supply chain to work together to tackle likely shortages – to decide where to prioritise shipments – they will have to provide cast-iron written reassurances that competition law will not be strictly applied to those discussions."
Rycroft said that without such assurances, companies could risk being fined by the Competition and Markets Authority.
"We asked for these reassurances at the end of last year," he added. "And, despite support from the Department for Environment, Food and Rural Affairs (Defra), we're still waiting."
The BBC asked the government for a response, with a spokesperson saying: "The UK will be leaving the EU on 31 October and our top priority is supporting consumers and businesses in their preparations for Brexit. We are working closely with the food industry to support preparations as we leave the EU."
When Boris Johnson became Prime Minister in July, the FDF warned a no-deal Brexit could do "mortal damage" to the food and drink sector and suggested in such an event the country could face food price rises, shortages and disruption.
The FDF's chief executive Ian Wright said then that no deal would "inflict serious and – in some cases mortal – damage on UK food and drink. Prices will rise, there will be significant shortages of some products, and disruption for shoppers and consumers will be far reaching".
He added: "We urge the new Prime Minister and government to work with us to deliver a withdrawal agreement that guarantees the closest possible trade and regulatory relationship with our nearest neighbours so UK food and drink can flourish."
The FDF is now urging the government to press the CMA to offer some assurances that coordination between industry players within the supply chain will not lead to conflicts with competition laws.
It is calling on the CMA to issue a "letter of comfort" to the industry that such coordination would be considered legal, in the public interest and that the strict letter of the law would not be enforced in this situation, the BBC says.
Rycroft added: "Hopefully, now that Michael Gove is in charge of all no-deal planning, we can make progress."
Meanwhile, Mark Jones, a partner at law firm Gordons, and an expert in the food and drink supply chain, does not expect the government to bow to pressure from the FDF given that relaxing competition rules is unlikely to resolve any potential food shortages. And further, he said the major supermarkets would likely be protective of the current status quo. "I think there is little prospect of the Government relaxing competition laws to help retailers manage the supply chain," Jones said. "Whilst the Food & Drink Federation may be pushing for the relaxation, it would be a surprise if retailers or suppliers had a huge appetite to co-ordinate supplies in the wake of Brexit. "The 'big four' control almost 70% of the market and if any of them have a supply-chain advantage post-Brexit, it offers them an opportunity to gain market share. I cannot see them wanting to help their competitors. They will want to help their own customers. "As to suppliers, if they can sell the stock they have, they will, and they may well be able to make a better profit if supply is tight. If they cannot sell or use their raw materials, there is nothing stopping them picking up the phone to their competitors and selling raw materials now. Relaxing rules on anti-competitive behaviour is, in my view, unlikely to help shortages and I cannot see the Government going for it."