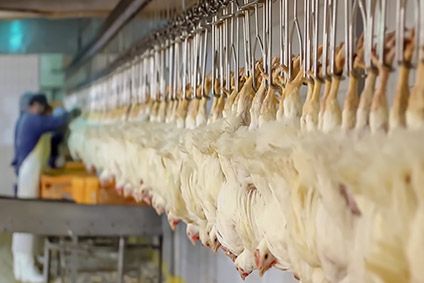 The prospect of the UK allowing imports of chlorinated chicken and hormone-fed beef from the US to secure a trade deal has been strongly opposed by organisations representing the country's agri-food sector.
The UK is keen on securing a trade deal with the US following its departure from the European Union and has thus far played down fears it will agree to import produce that does not meet current UK food welfare standards.
But reports in UK newspapers yesterday (4 June) suggested that, following preliminary trade talks, the government is set to open the market to food produced in the US to a lower standard as part of its planned deal with Donald Trump.
The Daily Telegraph said ministers are reportedly considering letting products such as chlorinated chicken – poultry dipped in chlorine to disinfect it – into British supermarkets but will apply tariffs to them to protect UK-based farmers from competition.
It quoted a government source as saying that such a "dual-tariff" approach would give UK producers a "competitive advantage" over the US.
But the newspaper pointed out that back in 2017, Michael Gove said there would be no such products allowed into British supermarkets, and as recently as January, Theresa Villiers, the environment secretary, told farmers: "We will not be importing chlorinated chicken".
Organisations representing the UK agri-food sector are keen to ensure ministers keep to their word.
A British Poultry Council spokesperson told just-food: "Maintaining British food production standards and protecting them from dilution in trade deals will play a crucial role in ensuring nation's access to affordable British food grown to high standards from farm-to-fork. If food produced to lower standards is allowed to enter the British market, it will create a two-tier food system, in which only the affluent can afford to eat British food grown to British standards. This is unacceptable.
"US production does not meet our standards and our values for meat production. British farmers have worked incredibly hard to build a food system that enhances British food values and ensures high standards of production from farm-to-fork.
"Poultry is the nation's favourite meat, making up half of the meat consumed by Britons. Our sector directly employs over 40,000 people who work hard to ensure safe, nutritious and affordable food is available for all. We want our sector to continue to flourish to feed the nation.
"British food producers do not dip their chicken carcass in chlorine because we do not believe in 'cleaning up at the end' or taking any shortcuts when it comes to producing food to high standards. Using chemicals to disinfect food at the end of a production process can hide a multitude of sins, but what it can't hide is the need for their use in the first place.
"It is vital that we do not lower our food standards in pursuit of new trade deals."
A spokesperson for the National Farmers Union (NFU) said the body was not aware of the detail of any trade talks between the UK and US and is waiting for official government communication.
But he added: "Broadly on future trade deals, the NFU is quite clear that trade agreements shouldn't allow the import of food that would be illegal to produce here, which would undercut British farmers and their high standards."
A spokesperson for the UK government's Department for International Trade told just-food: "The UK is renowned for its high environmental, food safety and animal-welfare standards.
"We have been clear that in all of our trade negotiations we will not compromise on our high environmental protection, animal welfare and food standards."