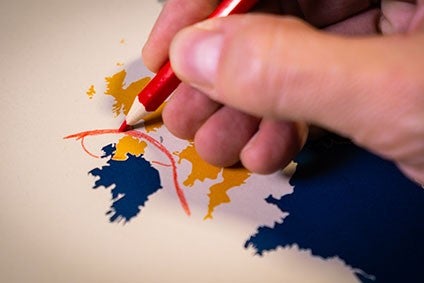 More than a third of food and drink manufacturers operating in the UK plan to cut or suspend the flow of goods moving from the British mainland to Northern Ireland due to ongoing uncertainty about the future trading relationship between London and Brussels.
Just over 37% of manufacturers say they will either reduce or pause deliveries in the face of the lack of clarity about trading in Northern Ireland after the end of the so-called transition period governing economic relations between the UK and the EU.
The latest monthly poll on Brexit carried out by UK trade body The Food & Drink Federation asked 50 members about how ready their businesses were for the end of the transition period, which has seen the UK remain in the EU single market and customs union after formally leaving the bloc in January.
Some 20.9% of suppliers say they "plan to pause GB-NI deliveries to ensure we can be legally compliant with NI rules", with a further 11.6% of manufacturers revealing they will call a halt "while we assess if it remains a viable market". The poll found 4.7% of businesses "plan to reduce the volume of goods sold from GB to NI".
From 1 January, new regulatory measures, including on areas such as customs and labelling, are being introduced on goods moving from Britain to Northern Ireland as part of a special protocol agreed by the UK and EU last year.
The protocol will come in whether or not London and Brussels agree a broader trade deal as it allows Northern Ireland, though still part of the UK, to be part of EU customs rules and of the single market on goods. Such a mechanism was seen by officials on both sides as a way to prevent there being a hard border between the UK and the Irish Republic, a sensitive issue given the troubled history of Northern Ireland.
The UK and the EU remain locked in talks over a possible trade deal between the two markets before the end of the transition period. If the UK leaves the EU without a trade agreement it will have to trade on World Trade Organization terms.
The FDF survey showed 42% of businesses indicated they will not be fully prepared for the end of the transition period, while a further 10% await "certainty of about a deal with the EU".
The trade body said: "With less than a month remaining, many of our questions awaiting answers and crucial details to be confirmed on requirements for trade with the EU and Northern Ireland, time has now run out for many businesses to be ready. It is essential that Government negotiates periods of adjustment with the EU to ensure businesses have adequate time to prepare so that we can limit disruption at the border and impacts on choice and price for the UK's shoppers and consumers."