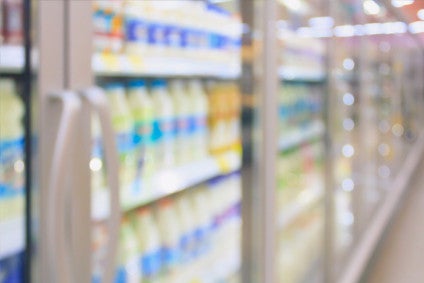 The chief executives of most of the UK's largest food retailers have written to the country's MPs to warn of the "significant disruption" facing the industry from a 'no-deal' Brexit.
Mike Coupe, the chief of Sainsbury's, Asda counterpart Roger Burnley and Jo Whitfield, the chief executive of The Co-op's retail business, have called on UK MPs to "urgently to find a solution" that "avoids the shock of a no-deal Brexit on 29 March", the date when the country is set to leave the EU.
In the letter, also signed by bosses at retailers including Marks and Spencer and by the UK arms of foodservice operators McDonald's and KFC, MPs were warned of the "practical examples" faced by the food industry and how the sector's "ability to mitigate these risks is limited".
"Our supply chains are closely linked to Europe – nearly one third of the food we eat in the UK comes from the EU. In March, the situation is more acute as UK produce is out of season: 90% of our lettuces, 80% of our tomatoes and 70% of our soft fruit [are] sourced from the EU at that time of year. As this produce is fresh and perishable, it needs to be moved quickly from farms to our stores," the letter read.
"This complex, 'just in time' supply chain will be significantly disrupted in the event of no deal. Even if the UK government does not undertake checks on products at the border, there will still be major disruption at Calais as the French government has said it will enforce sanitary and customs checks on exports from the EU, which will lead to long delays; Government data suggest freight trade between Calais and Dover may reduce by 87% against current levels as a result. For consumers, this will reduce the availability and shelf life of many products in our stores."
Food manufacturers and retailers operating in the UK have sought to stockpile some ingredients and finished goods to help offset any disruption to supply that may emerge from the UK leaving the EU without a deal.
The retail and foodservice chiefs who signed the letter, sent by industry association The British Retail Consortium, said there was little more they could do in this area and warned stockpiling fresh produce was "impossible".
"As prudent businesses we are stockpiling where possible, but all frozen and chilled storage is already being used and there is very little general warehousing space available in the UK. Even if there were more space it is impossible to stockpile fresh produce, such as salad leaves and fresh fruit. Retailers typically store no more than two weeks' inventory and it becomes difficult to restock stores if the supply chain is disrupted. We are also attempting to find alternative supply routes but there are limited options and not enough ferries, so this could only replace a fraction of the current capacity," the letter read.
"We are extremely concerned that our customers will be among the first to experience the realities of a no deal Brexit. We anticipate significant risks to maintaining the choice, quality and durability of food that our customers have come to expect in our stores, and there will be inevitable pressure on food prices from higher transport costs, currency devaluation and tariffs."
News of the letter prompted UK academics specialising in the country's food industry to take to social media.
As warned by @foodresearchuk reports, UK retailers now spell out realities on Food Brexit. Overdue. British food culture must wake up from thinking food simply arrives on shelves. It doesn't. It can and will be disrupted. It will cost more. Hit poor worst. https://t.co/FRoW0SXxUF

— Professor Tim Lang (@ProfTimLang) January 28, 2019
?
Retailers warn MPs: A no-deal Brexit threatens the UK's food security & will lead to higher prices & empty shelves. Been saying this for a quite a while myself but was accused of being part of project fear…. https://t.co/3foierABms

— Prof Chris Elliott OBE (@QUBFoodProf) January 28, 2019
?