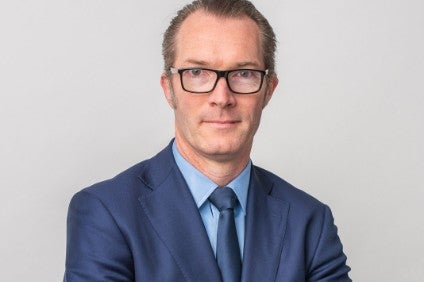 The UK's food-to-go market may not see sales fully recover to pre-Covid-19 levels for another two years, Patrick Coveney, the CEO of major supplier Greencore, said today (28 July).
Demand for products such as pre-packed sandwiches, salads and sushi have been hit by Covid-19 curtailing people's movements, especially commuters.
In the 13 weeks to 26 June, Greencore's food-to-go sales tumbled more than 50%, although the company insists it has seen declines ease during the spring and early summer. That said, in the three weeks to July, sales were still down 35% year-on-year.
In May, when Greencore issued its half-year financial results, the company said it was assuming its "revenue run-rate" would not return to the level seen in its previous financial year until October 2021.
Speaking to analysts after Greencore issued a trading update for the 13 weeks to 26 June, the company's fiscal third quarter, Coveney stuck to that forecast and outlined his expectations for recovery in the food-to-go market, which, before Covid-19 struck, accounted for two-thirds of the group's annual sales.
"We're quite pleased around the speed of which volume is coming back and probably we've done a bit better than would have been implicit in our commentary back in May in terms of the speed at which overall volumes, and in particular food-to-go volumes, have come back. Hopefully that will continue," Coveney said. "I still think the guidance around October 2021 is accurate enough based on everything we know."
However, he added: "I do think that the overall food-to-go market, including all the channels and customers that would have provided food-to-go product, is going to end up being smaller for some time than it was pre-Covid. In other words, I think the aggregate market size will be less post-Covid than it was pre-Covid, even a year, 18 months, 24 months, from now.
Greencore's principal customers in the UK food-to-go market are largely the major UK grocery retailers, including the 'Big Four' of Tesco, Sainsbury's, Asda and Morrisons, plus Marks and Spencer, The Co-op and the discounters.
"The relative performance of the grocery channel and the organised convenience-store channel, we fully expect they will do relatively better than some of the other channels that provide foodto-go product through to UK consumers and that will be a relative benefit to Greencore," Coveney insisted.
Greencore said today demand had improved during the third quarter and into what is now the fourth quarter of the company's financial year. In early spring, to protect profits and cashflow as the pandemic started to hit sales, Greencore temporarily ceased output at three factories – in Bow, Atherstone and Heathrow – but manufacturing has restarted at each facility.
In May, rival supplier Adelie Foods called in administrators after Covid-19 hammered orders at the sandwich and bagel maker. A week later, the administrators, Deloitte, said they had been unable to find a buyer for the business.
Coveney said Greencore was "quite encouraged" by the opportunities the company had to pick up contracts formerly served by Adelie and suggested the larger manufacturers in the category stood to benefit. "On a pre-Covid basis, the food-to-go sales of Adelie were about GBP200m (US$259m). Their business would have been hit harder than the business than we would have … which would be more retail-focused. My best judgement over the course of the next couple of years is that that volume will largely flow to the bigger, current players in the food-to-go market and but exactly when that happens and how strong the build-back is in those channels we'd have to see. We believe this is actually a significant, rather than modest, opportunity for us but we've got to work our way through it sensibly."
In common with other categories in the industry, after discussions with its retail customers in the first weeks of Covid-19 hitting the supply chain and demand, Greencore sought to focus on fewer products. Coveney suggested that concentration could persist. "I think, particularly in the larger store formats, both us and our customers have learned that probably a lot of these categories were over-ranged," he said today. So, while we are undoubtedly seeing ranges come back from the incredibly-concentrated ranges that we would have had in April and May, I think they're not likely to come back to the whole way to pre-Covid levels.
"That I think will create a necessary opportunity for both us and our customers to be able to be structurally more productive and find some ways of offsetting what will be some incremental cost right the way through the supply chain associated with Covid-19 in particular, in relation to some of the extra cost to keep people – be it our work colleagues or shoppers or other supply chain participants – safe. I think one of the factors that will be necessarily here for us all is to have structurally core productive ranges going forward and I think you will see that."
Greencore's share price, which has more than halved in value since the start of the year, closed up more than 11% today, hitting 124.1p.
Jefferies analyst Martin Deboo described Greencore's third-quarter trading update "reassuring in the round". He added: "Trading in Q3 and beyond remains firmly negative but is recovering at about the rate of our monthly modelling. Liquidity remains good and Greencore is well-positioned to win new business. The key uncertainty remains the drop-through margin on lost sales."
Alongside the trading update, Greencore announced it had plans to sell its molasses trading businesses, which are involved in the import and distribution of animal feed across the island of Ireland.