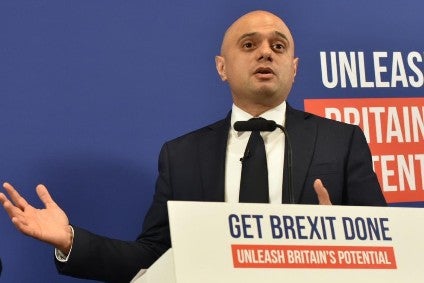 UK Chancellor of the Exchequer Sajid Javid's assertion that UK manufacturers will move away from European Union regulations post-Brexit has met with a negative reaction from local food industry representatives.
The Food and Drink Federation (FDF) said such an approach "represents the death knell for frictionless trade" and warned it could lead to higher food prices in the UK.
Javid, speaking to The Financial Times newspaper, said there would "not be alignment" with EU rules after Britain left the bloc and that companies would have to "adjust".
He said businesses "have known since 2016 that we are leaving the EU" and said they would be forced to adjust to new rules," and added "there will not be alignment, we will not be a ruletaker, we will not be in the single market and we will not be in the customs union – and we will do this by the end of the year".
But food industry representatives have expressed dismay at his comments.
Tim Rycroft, the FDF's chief operating officer, said: "This represents the death knell for frictionless trade.
"It will mean businesses will have to adjust to costly new checks, processes and procedures, that will act as a barrier to frictionless trade with the EU and may well result in price rises."
He added: "The majority of food and drink companies will have been hoping for frictionless trade with the EU but will now have to focus much of their planning this year on adapting to a new regime in 2021."
Richard Griffiths, the chief executive of The British Poultry Council, was also critical of Javid's stance, describing it as "another iteration of the government's 'give us what we want or we'll hurt ourselves' negotiating position".
He added: "Alignment supports food production in this country, and without it we'll be vulnerable to a two-tier food system."
The Chancellor's comments were also criticised, albeit in a more nuanced response, by Dame Carolyn Fairbairn, director general of The Confederation of British Industry (CBI).
She said: "Business welcomes the Chancellor's ambitious vision for the economy and recognises there are areas where the UK can benefit from its future right to diverge from EU regulation.
"However we urge government not to treat this right as an obligation to diverge.
"For some firms, divergence brings value, but for many others, alignment supports jobs and competitiveness – particularly in some of the most deprived regions of the UK."