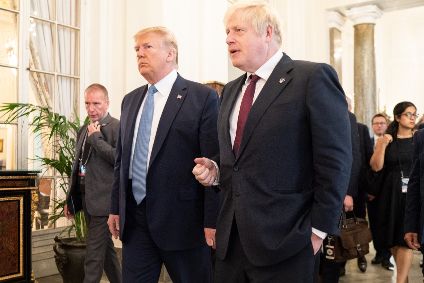 The UK government is reportedly readying plans to cut tariffs on US agricultural imports as part of a trade deal between the two nations – a prospect said to have caused discord between British government officials.
Citing unnamed UK government officials, The Financial Times has reported the UK's Department for International Trade is drawing up plans to offer a "big concession package" to Washington during negotiations over the coming months.
However, Liz Truss, the UK's International Trade Secretary, has met with opposition from George Eustice, the country's Secretary for Environment, Food and Rural Affairs, the publication said. Sources at Eustice's department are said to see a cut in tariffs as "the thin end of the wedge" that could lead to more UK concessions on animal-welfare standards.
Approached by just-food to comment on the report, a spokesperson for the UK Department for International Trade said: "We have been clear that any future deal with the US must work for our consumers, farmers and companies. As the Government made clear in its negotiating objectives, any agreement will not compromise on our high environmental protection, animal welfare and food standards."
just-food has asked the UK's Department for Environment, Food and Rural Affairs and its National Farmers' Union comment.
Food standards have become a hot issue in the UK agri-food sector as the country's government embarks on trade negotiations with other countries in the wake of Brexit.
Supporters of Brexit have argued the ability for the UK to now strike trade deals independently outside the EU will lower food prices in the country. Others are concerned an agreement with, say, the US may necessitate the UK having to accept imports of products such as chlorine-washed chicken.
The practice in parts of the US supply chain to wash poultry in chlorine has been held up by some UK food advocates as an example of the lower food standards in America that may have to be accepted in the event of a trade deal between the two countries. The controversy over the practice, banned by the EU, is less about the washing itself and more about whether its use indicates low hygiene standards elsewhere in the chain. US poultry industry professionals have defended the practice.
The UK and the US formally started trade negotiations last week. This first round of talks will last for approximately two weeks and will involve around 100 negotiators on each side. Further rounds will take place approximately every six weeks.
Truss said last week: "The US is our largest trading partner and increasing transatlantic trade can help our economies bounce back from the economic challenge posed by coronavirus. We want to strike an ambitious deal that opens up new opportunities for our businesses, brings in more investment and creates better jobs for people across the whole of the country.
"The Prime Minister has been clear that we champion free trade and this deal will make it even easier to do business with our friends across the pond. As we sit down at the negotiating table today be assured that we will we will drive a hard bargain to secure a deal that benefits individuals and businesses in every region and nation of the UK."