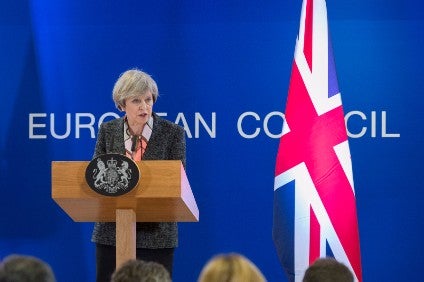 The UK government has attempted to outline a trading policy for the post-Brexit era – when Britain has left the European Union.
And for the first time it has outlined measures to be taken in the event of no deal being agreed between the UK and the EU.
Trade and Customs White Papers have been published to pave the way for legislation that is intended to "ensure the UK is ready for the first day after exit".
Speaking in the House of Commons yesterday (9 October) Prime Minister Theresa May said the papers "pave the way for legislation to allow the UK to operate as an independent trading nation and to create an innovative customs system that will help us achieve the greatest possible tariff and barrier-free trade as we leave the EU".
She added: "While I believe it is profoundly in all our interests for the negotiations to succeed, it is also our responsibility as a Government to prepare for every eventuality, so that is exactly what we are doing."
Labour Party leader, and leader of the opposition, Jeremy Corbyn, said the government had spent the 15 months since the EU referendum "squabbling amongst themselves" and was making a "mess" of Brexit.
The Trade White Paper, published by the Department for International Trade, establishes the principles that will guide future UK trade policy as well as laying out the practical steps that will support those aims.
These include taking steps to enable the UK to maintain the benefits of the World Trade Organisation's Government Procurement Agreement, ensuring the UK can support developing economies by continuing to give them preferential access to UK markets, preparing to bring across into UK law existing trade agreements between EU and non-EU countries, and creating a new UK trade remedies investigating authority.
International trade secretary Dr Liam Fox said: "We want to build a future trade policy that delivers benefits for the UK's economy and for businesses, workers and consumers alike."
Also newly published is the Treasury's Customs Bill White Paper, which sets out plans to legislate for the stand-alone customs, VAT and excise regimes the UK will need once it leaves the EU.
And it talks about no Brexit deal being reached.
"While the government has repeatedly said that we are confident that a positive deal can be reached with the EU, it is only prudent that we prepare for every possible outcome," it said.
The paper covers provisions for the implementation of customs, VAT and excise regimes in the event that no Brexit deal is reached, and sets out the steps the government would take to minimise disruption for businesses and travellers.
Chancellor of the Exchequer Philip Hammond said: "Investment and trade are crucial to the economic future of this country. This White Paper sets out our plan to keep trade with the EU as frictionless as possible, and reaffirms the government's commitment to deliver a smooth transition."