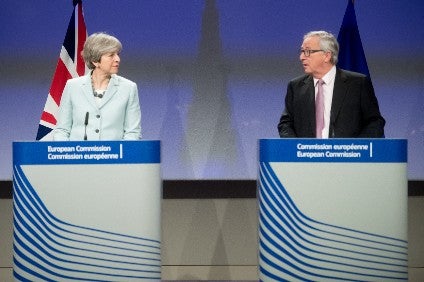 The UK government's latest document on Brexit has warned that food prices could rise if Britain leaves the EU on 29 March without a trade deal.
Some 30% of the UK's food imports come from the EU and the document said the flow of goods through Dover would be "very significantly reduced for months".
It said supplies of fresh fruit and vegetables could be hit hardest because of the potential timing of a no-deal departure.
With this in mind, there is a risk that panic buying might create shortages, it cautioned.
The UK government's Implications for Business and Trade of a No Deal Brexit on 29 March 2019 document suggested the UK economy could be 9% weaker under no-deal Brexit.
It said Northern Ireland could be hit hardest and businesses there could go bust.
The Government admitted only six of the 40 planned international trade agreements have been signed. The Faroe Islands and the Palestinian Authority are amongst those to have agreed trading terms with the UK.
And it said the EU, which would treat the UK as a third country in the event of no deal, could impose tariffs of 70% on beef exports and 45% on lamb.
In a specific warning about the Northern Ireland economy, the Government said: "Overall, the cumulative impact from a no-deal scenario is expected to be more severe in Northern Ireland than in Great Britain, and to last for longer."
This is because of expected disruption in the "closely interwoven supply chains and increasing costs that would affect the viability of many businesses across Northern Ireland".
It added: "There is a risk that businesses in Northern Ireland will not have sufficient time to prepare. This could result in business failure."
It went on: "The agri-food sector is a disproportionately large part of Northern Ireland's economy and located predominantly in border/rural areas. It is particularly vulnerable given its reliance on cross-border supply chains in the production stage and in finished products."
The Government also pointed to a lack of preparedness amongst UK businesses which trade solely with the EU. It reported that only 40,000 of the estimated 240,000 businesses this involves have applied for an EORI number, a document they will need to carry on trading after Brexit.