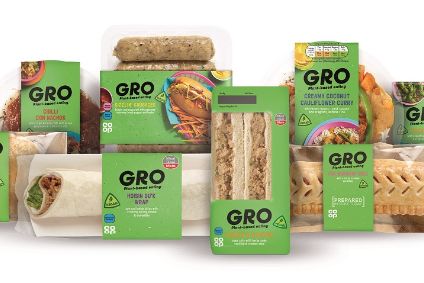 UK retailer The Co-op is cutting prices on plant-based meat products sold under its GRO own label.
The grocer, the country's sixth-largest food retailer by sales, said it is making the move to deal with a "disparity [which] is unfair to those following vegetarian, vegan and flexitarian diets".
Amid the growth in demand for plant-based meat alternatives worldwide, the price gap with conventional meat is often held up as a possible brake on the future expansion of the market.
The price gap between plant-based meat and conventional meat is, at present, to be expected, given the difference in scale of the two industries. Tackling that disparity is seen as crucial in fuelling the future growth of the meat-alternative sector.
Branded manufacturers have been looking to cut their own prices. In recent months, US manufacturer Impossible Foods has announced double-digit price cuts on its products sold through retail and foodservice channels. Impossible Foods' key US rival Beyond Meat has spoken publicly of its "longer-term strategy to reach price parity with that of animal protein".
The Co-op said it is spending more than GBP1.7m (US2.4m) to reduce the price of 29 fresh, chilled and ambient vegan products from this week. just-food has asked The Co-op if the cuts are permanent.
Jo Whitfield, the CEO of The Co-op's food business, said: "It's an industry-wide standard that plant-based alternatives are usually priced higher than their meat and dairy counterparts. At Co-op, we believe it shouldn't cost you more money to eat plant-based food and that this disparity is unfair to those following vegetarian, vegan and flexitarian diets."
Examples of the price reductions include GRO Vegan Sausages (was GBP3.00, now GBP1.45), GRO Meat Free Burger (was GBP3.00, now GBP1.35) and GRO Meat Free Mince (was GBP3.00, now GBP1.75).
The GRO range was launched in January 2020.