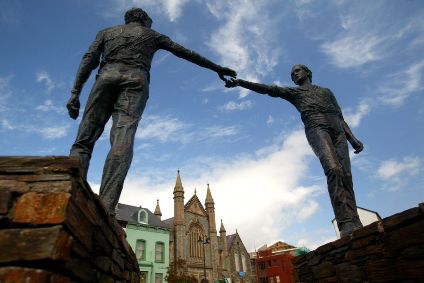 Major UK supermarkets have warned the country's government that post-Brexit food shortages experienced by grocers in Northern Ireland could get worse.
In a letter sent to Cabinet Office minister Michael Gove, chief executives of UK 'big four' supermarket groups Sainsbury's, Asda and Tesco warned that shortages would worsen when a Brexit 'grace period', which has exempted retailers from some bureaucratic changes, ends on 31 March.
Northern Ireland has remained a part of the EU's single market for goods while the rest of the UK has left, which means checks on many goods entering the province from Great Britain at new border control posts (BCPs) at Northern Ireland's ports.
There have been early hold-ups at customs in Northern Ireland because hauliers have not got the right post-Brexit paperwork to hand, although anecdotal evidence suggests that the empty supermarket shelves in the province are also being caused by some suppliers sitting back and waiting for customs teething problems to be sorted out before resuming deliveries there.
Marks & Spencer has dropped several hundred product lines from stores in the region while Sainsbury's is selling some Spar products sourced from Ireland to avoid gaps on shelves
But the supermarket bosses suggest things could get worse rather than better.
In their letter to the government they warn of "significant disruption to food supplies" to Northern Ireland because of "unworkable" post-Brexit border arrangements.
The supermarkets urged the government to take "a number of steps to work with us to ensure the long-term sustainability of the Northern Irish grocery market".
The retailers also called on the government to begin an "open discussion" with the EU to explain why implementing the Irish protocol – special trading arrangements to ensure there is no hard border between Northern Ireland and Ireland, an EU member – is "unworkable" in the current timeframe.
The letter, also signed by the British Retail Consortium, said it is "essential we find a long-term solution, agreed with the EU," before the end of the grace period.
A UK government spokesperson, quoted in the UK's Financial Times newspaper said: "A new dedicated team in government has already been set up and will be working with supermarkets, the food industry and the Northern Ireland executive to develop ways to streamline the movement of goods."
The spokesperson added: "The grace period for supermarkets and their suppliers is working well, goods continue to flow effectively between Great Britain and Northern Ireland and we are working intensively with industry as new requirements come in."